Murder Tightly Knit – A Purl of a Book!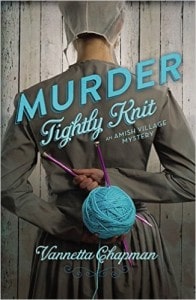 Vannetta Chapman has slowly gained prominence in the Amish genre. Her ability to weave a storyline together so intricately that the reader is thoroughly ensconced after only two pages is proof of her talents. Murder Tightly Knit (second in her Amish Village Mystery series) does exactly that. Be prepared to lose some sleep as you flip page after page, late into the night!
When Owen Esch shows up dead on the Pumpkin Vine Trail, lots of questions come into play. Why is Mary from the Cat's Meow Yarn Shop acting so strangely? Who is the mystery Englischer hanging around town? Soon the police, as well as a vexing federal investigator have descended upon the quiet village. But it looks like it may take a faithful few – Mary's friend Hannah Troyer, and Mary's boss Amber Bowman, to help unravel this mystery.
I was given Murder Tightly Knit in exchange for my honest review. It was excellent. Although there were some references to the storyline of the first book in the series (Murder Simply Brewed), Murder Tightly Knit can be read as a stand-alone, but I highly recommend reading them in sequence. Chapman has outdone herself with this novel, exploring a topic that I have yet to have read about in the hundreds of Amish novels I have read previously (are you curious??). Well done, Vannetta Chapman! Grab your favorite dose of caffeine and be prepared to be carried away by Murder Tightly Knit. Yes, it's that good.
---
Susan Ferrell and her husband make their home in the Atlanta Metro area. Although Susan struggles with chronic migraine headaches, she stays very busy as a stay-at-home mom to one very precocious little girl. While catching her breath, she feeds her Amishaholic tendencies by reading vast amounts of Amish literature!