Mending Fences – Luke's Story (Finally!)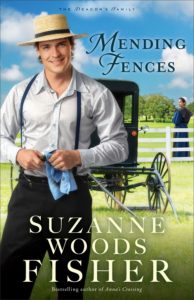 Yaaaas! Suzanne Woods Fisher has a new series out! Readers are taken back to Stoney Ridge (I know!) with The Deacon's Family. First in the series is the phenomenal Mending Fences.
Luke Shrock is fresh out of rehab. He's not exactly been a model citizen most – okay, ALL – of his life. Cherry bombs and snakes are just the tip of the iceberg! Bishop David Stoltzfus takes Luke on as his latest project – and back to Windmill Farms to mend some fences.
Englischer Izzy Miller is new to Windmill Farms, and comes from a very checkered past. She's seen Luke's type before and wants nothing to do with him. Sounds like a challenge for the mischievous Luke!
I was given Mending Fences in exchange for my honest review. Suzanne Woods Fisher is back to the Amish and better than ever! Haven't read the original Stoney Ridge series? Not a problem (although I recommend it highly.) Luke's story was worth the wait. And although I'm not Amish, something tells me I could easily confide in Bishop David – what a tender soul! Definitely add this to your TBR pile – and put it on top!
---
Susan Ferrell and her husband make their home in the Atlanta Metro area. Although Susan struggles with chronic migraine headaches, she stays very busy as a stay-at-home mom to one very precocious little girl. While catching her breath, she feeds her Amishaholic tendencies by reading vast amounts of Amish literature!
---