I'm back from taking the summer off from blogging (more on that later!) and now it's time to get back to posting bookish stuff. First up, an interview and giveaway with Melanie Dobson about her book, Memories of Glass. Details on how to enter are at the end of the interview.
Melanie Dobson is the award-winning author of nineteen historical romance, suspense, and time-slip novels, including Hidden Among the Stars, Catching the Wind, Chateau of Secrets, and Shadows of Ladenbrooke Manor. Four of her novels have won Carol Awards, Catching the Wind won the Audie Award for inspirational fiction, and The Black Cloister won the Foreword magazine Religious Fiction Book of the Year.

Melanie is the former corporate publicity manager at Focus on the Family and owner of the publicity firm Dobson Media Group. When she isn't writing, Melanie enjoys teaching both writing and public relations classes.

Melanie and her husband, Jon, have two daughters. After moving numerous times with work, the Dobson family has settled near Portland, Oregon, and they love to hike and camp in the mountains of the Pacific Northwest and along the Pacific Coast. Melanie also enjoys exploring ghost towns and abandoned homes, helping care for kids in her community, and reading stories with her girls.

Visit Melanie online at www.melaniedobson.com.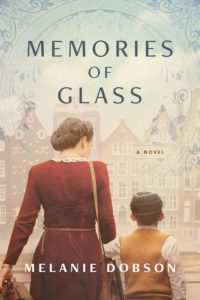 How did you come across the true accounts that inspired Memories of Glass? Tell us about some of the research that went into writing this novel.
Several years ago a dear friend told me about thousands of Dutch mining tunnels in Maastricht that were used to hide people and artwork during World War II. As I researched those tunnels, I stumbled onto the incredible story about a network of seemingly ordinary people in Amsterdam who rescued more than six hundred children from a Nazi deportation center during the war. This amazing feat became the foundation for Memories of Glass.
During my months of research, I read countless interviews with men and women involved in the Dutch resistance and then spent a week in the Netherlands visiting all the major locations for my story, including the Amsterdam deportation center and the marlstone tunnels down south. When I boarded a bus to Kamp Westerbork, the elderly driver was so pleased to hear I was writing a novel about Holland's Holocaust that he covered my fare. Across this beautiful country of windmills, canals, and fields of flowers, I discovered a number of gracious people like this gentleman who were eager to share what happened to their ancestors during the war.
What is the inspiration for the title of your book, Memories of Glass?
In both the past and present stories, my characters wrestle with how to process the broken memories of loved ones who were stolen away from them, and one of my Dutch heroines collects antique glass bottles many years after the war to remember someone she lost. At the end of the story—well, I won't tell you exactly what happens in the end, but after many years of brokenness, the shards of these memories are finally welded back together again.
How did the Nazi occupation of the Netherlands differ from their occupation of other European countries?
Before the war, the Netherlands had been a neutral country, welcoming many German Jewish refugees across the border, but everything changed for the Dutch in May 1940. After promising not to attack, Hitler's army swept furiously into Holland and overtook this beautiful land. The Dutch were stunned but consoled by promises that the persecution happening in Germany wouldn't occur in their country.
A special council—the Judenrat—was formed to meet the needs of Jewish citizens. Even as new regulations were implemented in Holland, many of the 140,000 Dutch Jews believed they were safe because the Nazis granted thousands of exemptions to their growing list of rules. In 1942, assisted by the Judenrat, the Nazis began rounding up the Jewish people and cramming them into a gutted Amsterdam theater called Hollandsche Schouwburg. Still they continued to grant exemptions to elite Jewish citizens until near the end of the war when even the leaders of the Judenrat were rounded up and deported to concentration camps. More than a hundred thousand Jewish people lost their lives during the Dutch Holocaust, but of the twenty-five thousand who went into hiding, including four thousand children, more than fifteen thousand remained hidden until liberation.
You've highlighted three real-life Dutch heroes in this novel. Could you tell us a bit about their stories?
Walter Süskind was a German Jewish salesman appointed to register each man, woman, and child forced into an Amsterdam theater for deportation. Across the street from the theater, separated by a tram line, were two brick-clad buildings—a day care run by a matronly Jewish woman named Henriëtte Pimentel and the Reformed Teacher Training College, overseen by Johan van Hulst. These three leaders partnered together to rescue six hundred children from their vigilant occupiers, and the Nazis never found out what they were doing.
Sadly Henriëtte was killed at Auschwitz in 1943 after accompanying her staff and the remaining children in her care. Walter was exempted from deportation, but his wife and daughter were not. He chose to leave with them and many think he was killed in 1945 by fellow inmates at Auschwitz who thought he, a former employee of the Judenrat, was a traitor. Dr. Hulst passed away last year at the age of 107. He knew that I was writing Memories of Glass, and it was a great honor for me to connect with those who loved him.
What is your favorite thing about writing in the time-slip genre? What's the most challenging aspect of it?
I love to research and learn stories from the past, especially stories about ordinary people who did extraordinary things to fight against evil. In time-slip fiction, I can write a past plot alongside a contemporary one to show the repercussions of an event that occurred long ago. I like peeling back the layers of a family secret to discover the reality of what really happened and how it continues to impact people today. The most challenging aspect of writing time-slip fiction is weaving together the past and present stories so readers will be engaged with the characters in both time periods.
Memories of Glass, like other novels you've written, highlights the virtue of sacrificial love. How do you hope your readers will relate this to their daily lives?
The heart of this story is about two Dutch women who've been wounded by a broken friendship. When the Nazi occupation brings them back together, they must work closely together to rescue the Jewish children in their care.
My hope is that the friendship and sacrifice of these women will represent the thousands of Dutch men and women who gave their lives for people they loved and often for people they didn't even know. Memories of Glass poured out of me as a reminder that in my own small world, my busyness, I often overlook opportunities to help others around me. I hope readers are inspired alongside of me to be vigilant in sacrificially loving those whom God brings into our world as well as, like Landon in the story, be open to stepping outside our comfort zones to partner with people in need around the world.
Tyndale House Publishers is giving away one copy of Memories of Glass. To enter, leave a comment below. Easy peasy. Giveaway starts today, Friday, September 6th and ends Friday, September 13th and is only open to US residents. One winner will be selected at random and announced on Saturday, the 14th in the comment section of this blog post.

Good luck and don't forget to share this giveaway with your friends!
ABOUT THE BOOK:
Reminiscent of Diane Ackerman's The Zookeeper's Wife, this stunning novel draws from true accounts to shine a light on a period of Holland's darkest history and bravest heroes.
1942. As war rips through the heart of Holland, childhood friends Josie van Rees and Eliese Linden partner with a few daring citizens to rescue Eliese's son and hundreds of other Jewish children who await deportation in a converted theater in Amsterdam. But amid their resistance work, Josie and Eliese's dangerous secrets could derail their friendship and their entire mission. When the enemy finds these women, only one will escape.
Seventy-five years later, Ava Drake begins to suspect that her great-grandfather William Kingston was not the World War II hero he claimed to be. Her work as director of the prestigious Kingston Family Foundation leads her to Landon West's Ugandan coffee plantation, and Ava and Landon soon discover a connection between their families. As Landon's great-grandmother shares the broken pieces of her story, Ava must confront the greatest loss in her own life—and powerful members of the Kingston family who will do anything to keep the truth buried.
Illuminating the story and strength of these women, award-winning author Melanie Dobson transports readers through time and place, from World War II Holland to contemporary Uganda, in this rich and inspiring novel.
---