Meek and Mild – Much Less Morose ~ Review by Susan Scott Ferrell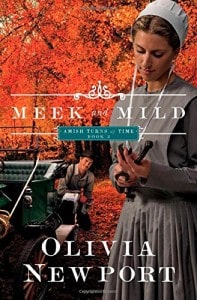 After reading Olivia Newport's Wonderful Lonesome (first in her Amish Turns of Time series), I was left wanting more…and also found it to be rather depressing. I had hoped to read more about the characters in Book Two, but that wasn't to be. I believe Newport's vision for this series is to show glimpses into pivotal moments of time in Amish history. That was the case with Book One and appears to be the case with Book Two – Meek and Mild, which is much less morose.
Set in the early 1900s, Meek and Mild follows the life of Clara Kuhn. Clara's Amish community is at a crossroads. Shunning seems to be what is on everyone's mind. Although their strict bishop has set a hard line, the church members are trying hard to discern: What is God's will? Do they obey their bishop? Do they defy him and risk being shunned? The community is in absolute turmoil.
In the midst of this, Clara has a beau of two years – Andrew Raber – who has patiently waited while Clara tries to sort out her feelings. But Andrew also has a new passion – a Model T. Surely that is not the will of God – is it?
I was given Meek and Mild in exchange for my honest review and I will say it was a very interesting read. There was a palpable tension throughout the novel that Olivia Newport wonderfully created. I would be remiss not to mention a trigger warning for those that have fertility issues/concerns. A large chunk of this novel discusses this issue and it is not mentioned in the synopsis on the back of the book. Meek and Mild can easily be read as a stand-alone. Newport is an excellent writer. This was definitely an interesting read.
---
Susan Ferrell and her husband make their home in the Atlanta Metro area. Although Susan struggles with chronic migraine headaches, she stays very busy as a stay-at-home mom to one very precocious little girl. While catching her breath, she feeds her Amishaholic tendencies by reading vast amounts of Amish literature!