More Than a Marriage – The Struggle is Real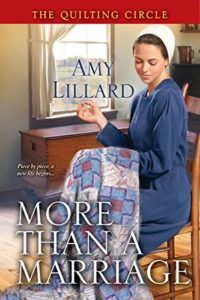 Want a quick, good read in the coming days? Then Amy Lillard's latest novella, More Than a Marriage, is what you are looking for!
Lillard takes readers back to Wells Landing and tells us the story of Jacob and Tess Smiley. Jacob, who works hard away from home – and spends too much time on his cell phone…and Facebook. Tess, who has two goats she adores, that provide extra income – and give her an outlet for her frustration over Jacob. Although Jacob and Tess have been married three years, their future looks dismal – separation seems to be the only solution…or is it?
I was given More Than a Marriage in exchange for my honest review. Although other characters from previous novels in the Wells Landing series are mentioned, it can easily be read as a stand-alone. I found this novella to be a very interesting read, as Lillard came upon a storyline in the Amish genre that you do not see very frequently – marital strife to the point of separation.
More Than a Marriage reminds readers that the Amish are human too – even troubles with their marriages. We outsiders/Englischers tend to idolize and romanticize the Amish – even putting them on a pedestal at times. Amy Lillard reminds us that we're all human, all have struggles, and all need the help of others and God.
PS. For Wells Landing fans…Jonah's story is next!!!
---
Susan Ferrell and her husband make their home in the Atlanta Metro area. Although Susan struggles with chronic migraine headaches, she stays very busy as a stay-at-home mom to one very precocious little girl. While catching her breath, she feeds her Amishaholic tendencies by reading vast amounts of Amish literature!