Lorie's Heart – Where Does It Belong? – Review by Susan Scott Ferrell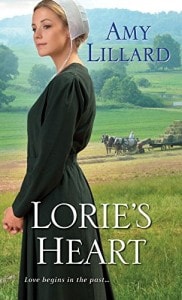 Amy Lillard was a new author to me when I read her first novel (Caroline's Secret) in her Wells Landing series. I was skeptical, but was quickly won over. Lillard had teased her readers at the end of Book Two (Courting Emily) with an excerpt of Book Three. So, when the third in this series, Lorie's Heart arrived, I was ready…I've been waiting a long time for this story!
Lorie's Heart tells the story of Lori Kauffman, whose life is turned upside down with the unexpected death of her father. When she sees his lifeless body – and a tattoo on his chest – Pandora's Box is opened. She soon discovers that her father led a double life. As Lorie tries to unravel the mysteries of her father, it creates havoc for her family and the man she has been dating for so long. When she enters the Englisch world looking for answers, it's not as hard as she thought it would be to get around, especially with the help of a kind, compassionate Englischer. So, the struggle ensues in Lorie's heart: Well's Landing or the world?
I was given Lorie's Heart in exchange for my honest review. I found it to be a very good read. I was not as captivated by it as I was with the other two books in the series, but it still was a solid read. There were a couple of times where it seemed like the storyline could have been pushed a little further to more resolution. The concept for the entire novel was exceptional – I just wish the momentum had kept going. Although this could be read as a stand-alone, I recommend reading Books One and Two as the characters from the storylines of each novel are mentioned. I am looking forward to the next installment in this series, Just Plain Sadie, due out in April, 2016 – it looks to be another good one!
---
Susan Ferrell and her husband make their home in the Atlanta Metro area. Although Susan struggles with chronic migraine headaches, she stays very busy as a stay-at-home mom to one very precocious little girl. While catching her breath, she feeds her Amishaholic tendencies by reading vast amounts of Amish literature!