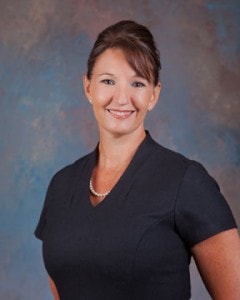 Hi, Shelley. Welcome back to Destination Amish! Tell readers all about your new book, A Christmas Bride in Pinecraft.
It's such a pleasure to be back at Destination Amish. Thank you so much for the invitation!
It's a little hard for me to sum up A Christmas Bride in Pinecraft because there's a lot going on in the book. First and foremost, it's a romance between Beverly and Eric, two characters who have had small roles in the entire Amish Brides of Pinecraft series. Eric is the long distance owner of the Orange Blossom Inn and Beverly manages it. The novel opens with Beverly discovering that the inn has been robbed. She calls Eric in a panic. He decides to get the first flight out of Philadelphia to be with Beverly.
The robbery and Eric's decision to spend Christmas with Beverly set off a whole series of events. Some have to do with Beverly and Eric. Other story lines feature two brothers who have a difficult home life and are out of hope. I do my best to link everything together just in time for Christmas Day!
Like all my Christmas novels, it can be read as a stand alone book. It's sweet, fairly fast-paced, and has a lot of heart.
I have always wanted to visit Pinecraft and I know you have been there. I may just hop on the Pioneer Trails bus next time I pass it! How is Amish life different there than other Amish communities?
I can best sum up Pinecraft by describing the line to get into Yoder's, the famous restaurant there. Yoder's is not very small, but it always has a big crowd waiting to go in! It's not uncommon to stand in line for thirty or forty minutes. For me, all this standing around was a perfect way to people watch! The first thing I noticed was that there were Amish from all over the country waiting in line. Men and women are wearing clothing unique to their area of the country. Some ladies from Indiana have pleated skirts, others are wearing aprons lined with brightly colored piping. Most everyone has taken off their heavy shoes and is wearing flip flops.
Everyone is also chatting and making friends. It's such an opportunity to meet new people from all over the country! I've now been there twice and I'm anxious to return.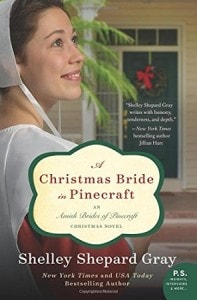 Do you have a favorite scene or quote from A Christmas Bride in Pinecraft?
There's one scene between two young teenagers. A girl named Effie invites a boy named Josiah to her house for pie and to her surprise, he accepts. Then, of course, she immediately begins to doubt herself. Why did Josiah say yes? Does he feel sorry for her? Was he simply hungry? Or could he possibly like her as much as she likes him?
It's a fairly simple scene, but I loved it because I think it could happen to any pair of teenagers. At that age, friendship and doubt seem to go hand in hand.
How much of the Amish culture and way of life do you apply in your daily life?
My first instinct is to say that I don't really live an Amish lifestyle. I like my electricity. I enjoy shopping. I wear make up and jewelry. : ) But actually, my Amish friends have taught me something that I've taken to heart. That's to do my best to appreciate every day and to give thanks often. I've found that I try to live my faith each day now, and for that I am grateful.
Are you reading any books right now? Do you read other Amish fiction authors?
I rarely watch television and read all the time! It's not uncommon for me to read several books a week. One of the best novels I've read lately is The Nightingale by Kristen Hannah. It's set during WWII and tells the tale of two sisters in France. I think I cried while reading the last 30 pages!
I actually try my best to not read other Amish fiction authors. I'm a little afraid of being so drawn into another author's story or way of writing, I might unintentionally pick something up. For better or worse, I want my books to sound like me. That said, I have many friends who also write Amish fiction. They're wonderful and talented! : )
What's next for you?
I'm currently in the middle of writing next year's series, 'The Charmed Amish Life'. It's another series of four novels…this time set in Charm, Ohio! It's been a pleasure to set my books in an area that I love so much. This series is full of drama and is probably the most romantic of any I've written. I'm anxious for everyone to tell me what they think. The first book is titled A Son's Vow, and it will be published in January, 2016.
Thanks so much, Shelley! I hope to see you if you come to Sugarcreek again.
We're planning a 'Girlfriend Getaway' in May in the Charm area! So, yes, I'll be coming back to Sugarcreek very soon! I can't wait!
I have exciting news…HarperCollins Publishers is giving away a FOUR book prize pack to ONE lucky reader!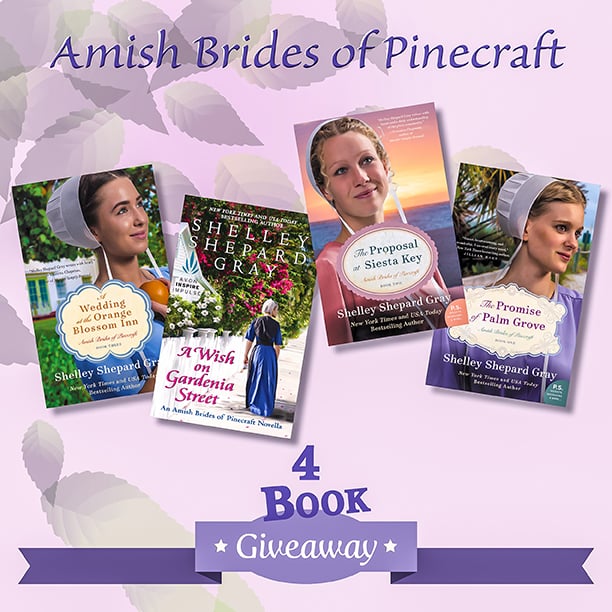 One winner will receive the following books:
THE PROMISE OF PALM GROVE
THE PROPOSAL AT SIESTA KEY
A WISH ON GARDENIA STREET
A WEDDING AT THE ORANGE BLOSSOM INN
To enter, leave a comment…easy peasy! For an

EXTRA

chance share this post and leave a comment if you do.
Giveaway starts today, Tuesday, October 27th and ends Tuesday, November 3rd.
*Giveaway is only open to US residents*