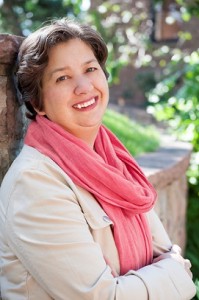 Hi Olivia! Welcome to Destination Amish. Can you share a little about yourself?
I'm an Illinois native transplanted in Colorado by way of California and Washington State. I love the sunshine here and the fact that every time I step outside my front door I can lift my eyes to a view of the Rockies. That does my soul good. I'm married with two adult children and the reluctant owner of an albatross of a backyard that I am surrendering to weedy wilderness a few feet at a time.
Can you tell us about your latest book?
Wonderful Lonesome is the start of a set of historical Amish stories in the 1910s. Each one explores a different setting and issue in Amish history. Wonderful Lonesome is about a fragile settlement in Colorado a hundred years ago. Abbie Weaver is determined to do everything she can to help the settlement succeed, but at what cost? She refuses to concede defeat to hail, drought, and coyotes, even as families begin to give up and return east. When Abbie discovers the root of a spiritual divide that runs through the settlement, she must choose between a quiet love in her cherished church, passion with a man determined to leave the church, or imagining her life with neither.
Which character can you identify with most?
Definitely Abbie. I can be tenacious, hanging onto something I really want to be true and determined to find hope beyond the next obstacle. Like Abbie, I have something to learn—perpetually—about opening myself up to a different answer than the one I had my heart set on.
What inspired you to become an author?
Ha! Some days it feels more like an affliction than inspiration. Actually, becoming an author has been a long trajectory of my life as I've learned to lean into the gifts I was created with and trust that God wants to bring good from them. I only began pursuing publishing novels a few years ago, but I hope to have many years of spinning stories still ahead.
What question have you always wanted to be asked in an interview?
"What brings you joy?" As much fun as it is to talk about stories, "What brings you joy?" is a question that would connect people deeply if we asked it more often. And my answer is that I love to try to be present in each moment, in each place, as it happens. On one level I'm not very good at doing nothing for long stretches of time. On another level, though, I only need that glimpse of the mountains to feel gratitude and wonder and sacredness. I only need the smiles on my children's faces to sink into love. I only need to see a colorful plate of nutritious food to relish God's abundance. I only need a good hearty laugh to roll in a wave of healing. All these things bring me more joy than any accomplishment I'll ever achieve.
What is one thing about you that readers would be surprised to learn?
I once made most of my own clothes, including lined business suits. Now if I had to put in a zipper, or even a sleeve, I'd quake in my boots.
What's next for you?
I just turned in the edits for Meek and Mild, the next book in the Amish Turns of Time set. It releases in February. The third book is slated for release next August. I have to buckle down and start writing it!
Great interview Olivia! Thanks so much for sharing with us today. Readers, Olivia is graciously giving away TWO copies of her new book  Wonderful Lonesome. To enter leave a comment below. Two books…two winners! Contest is only open to US residents.
You can pick up a copy HERE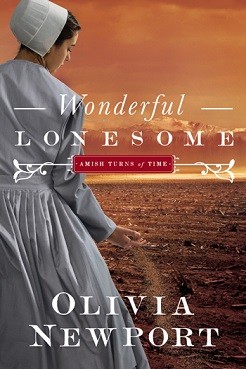 **Contest starts today Tuesday, August 19th and ends on Tuesday, August 26th.**
---
In addition to Wonderful Lonesome, Olivia Newport is the author of three historical novels (Avenue of Dreams series), three Amish stories (Valley of Choice series) and Hidden Falls, a 13-episode serialized contemporary novel available in digital formats. She chases joy in Colorado Springs, where the daylilies and sunflowers in her wild backyard grow as tall as she is. Find out more at www.olivianewport.org.