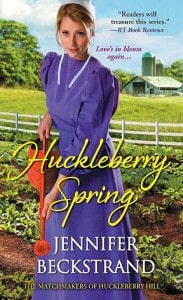 Jennifer Beckstrand and the Helmuths of Huckleberry Hill are at it again! Grandparents Felty, and particular Anna, just can't seem to leave things well enough alone. And so begins another installment in Beckstrand's The Matchmaker's of Huckleberry Hill series, Huckleberry Spring.
Huckleberry Spring tells the story of accident-prone Emma, an award-winning gardener, whose heart has been ripped to shreds by the Helmuths grandson, Ben. Ben, who was once engaged to Emma, but now lives in Florida, finds himself in Emma's life again. Good ole Anna finds a most peculiar way to get Ben back to Huckleberry Hill, hopefully forever. Can Emma and Ben find common ground again? Will a secret that Ben holds dear destroy their chance at love forever? Read and find out!
I was given Huckleberry Spring in exchange for my honest review. It is a quick read, but there are parts of the plot that seem like they could have moved a bit faster (granted, that might just be because I wanted Ben's secret revealed sooner!) I also thoroughly enjoyed the subplots that Beckstrand so expertly weaved in and out of the main storyline. This book can easily be read as a stand alone, as previous storylines from the series have no bearing on this one. I am thoroughly charmed by Anna and Felty and look forward to Beckstrand's next installment, Huckleberry Harvest. Bravo to Beckstrand, yet again!
To Purchase A Copy Of  Huckleberry Spring Click Here
Susan Ferrell and her husband make their home in the Atlanta Metro area. Although Susan struggles with chronic migraine headaches, she stays very busy as a stay-at-home mom to one very precocious little girl. While catching her breath, she feeds her Amishaholic tendencies by reading vast amounts of Amish literature!