Every Rose Has a Story to Tell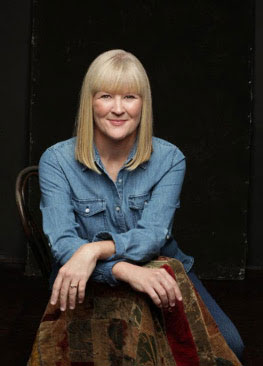 Somewhere in your backyard, very likely, a rose is growing. Maybe two or three or more. Have you ever thought of the story behind those roses? Where they originally came from—Europe or China? Who first cultivated it? Who planted it in your garden? And why?
There's a fairly good chance that at least one rose in your backyard is a "lost" rose—one from the 1800s, started from a small cutting by friend or family, and is no longer available on the commercial market. In the nineteenth century, there were over 6,000 varieties of roses.
But then came the twentieth century—an era of consolidation for businesses, including nurseries. Just a few large firms grew roses to sell on the commercial market, and they only sold the best sellers—which caused the elimination of hundreds, perhaps thousands, of roses. Those roses, a legacy of 2,500 years of breeding and gardening, disappeared from nursery catalogs and eventually from gardens, too. They were lost until the 1970s when "rose rustlers" set out to discover neglected rose specimens that had survived in abandoned gardens, cemeteries, vacant lots, and backyards of old towns.
"Rose rustling" is an odd term because, unlike cattle rustlers, they don't steal anything. Just the opposite—they seek to preserve it. When rose rustlers find an old rose, they identify it and take cuttings to propagate (with permission, of course). Now and then, they come across a "found"—a rose that was thought to be extinct. A "found" is the equivalent of an earthquake in the rose world. Such an unusual discovery causes reverberation and ripples and excitement. After all, each rose has a story behind it.
Take, for example, the story of the oldest known rose in the world—over one thousand years old. It's from a cathedral in Hildescheim, Germany. During the Second World War, the cathedral was bombed and the rose was destroyed. Believe it or not, new canes sprouted up. New life coming out of something so implausible. A perfect illustration from the natural world that points to another reality. A heavenly reality.
Here's one that tugs at my heart, a reminder that God does not forget the brokenhearted. It's about a pink rose called "Louise the Unfortunate."
In the mid 1800's, Louise was a mail order bride from New Orleans. She traveled to Natchez, Mississippi to meet her new husband-to-be and start her new life. She waited and waited on the docks but no one came to claim her. A day turned into night, then a week, then a month. Had her betrothed come to the docks, saw her, and changed his mind? Had something happened to him? Penniless, heartbroken and ashamed, Louise could not go home. She became a prostitute, working "Under the Hill," until she took ill and died. Her white marble headstone has a simple epitaph: "Louise the Unfortunate" and a pink rose adorns her grave.
The history of roses, all true, is the framework for Christmas at Rose Hill Farm. In this Christmas tale, we meet up again with Bess Riehl from The Search, whose one-of-a-kind and slightly outrageous grandmother, Bertha Riehl, was a grower and lover of roses. Tucked into the corner of her grandmother's greenhouse, Bess comes across a forgotten potted rose. One lone bud is soon to bloom. Curious and unable to identify the rose, Bess requests Penn State Extension to send out a rose rustler. That rose rustler turns out to be Billy Lapp, her first love. There's only one thing that could lure Billy Lapp back to Stoney Ridge: the discovery of a "found" rose.
Here's the fun part of being a novelist: the very rose Bess discovered at Rose Hill Farm is traced to the journey of the first Amish group who arrived in America in 1737 on the Charming Nancy. Stay tuned for that story to be told in Anna's Crossing, a novel coming out in March 2015 about that treacherous ocean voyage. And the rose.
Yes, each rose has a unique history. But all roses have an important story to tell. In Christian history, the rose is associated with martyrs who were persecuted and died because they professed their faith. The five petals of the rose bloom are said to represent the five wounds of Christ. That is the most important story any rose has to tell.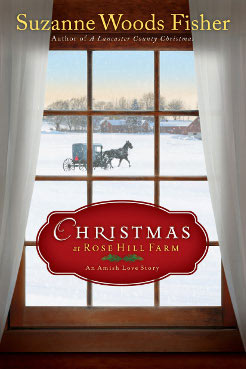 Love this blog post Suzanne! Thanks for taking the time to stop by Destination Amish…I always learn something new from you 🙂
Suzanne is giving away a copy of Christmas at Rose Hill Farm to one lucky reader!
To enter leave a comment…easy peasy! For an EXTRA chance share this post and leave a comment if you do.
Contest starts today Tuesday, October 14th and ends on Tuesday, October 21st.
*Contest is only open to US residents*
---
Suzanne Woods Fisher is the bestselling author of fiction and non-fiction books about the Old Order Amish for Revell Books and host of the radio-show-turned-blog Amish Wisdom. Suzanne's interest in the Amish began with her grandfather, who was raised Plain. A theme in her books (her life!) is that you don't have to "go Amish" to incorporate the principles of simple living. She lives in California with her family and raises puppies for Guide Dogs for the Blind. To Suzanne's way of thinking, you just can't take life too seriously when a puppy is tearing through your house with someone's underwear in its mouth. You can find Suzanne at www.suzannewoodsfisher.com or www.facebook.com/SuzanneWoodsFisherAuthor.