THE DEAD WILL TELL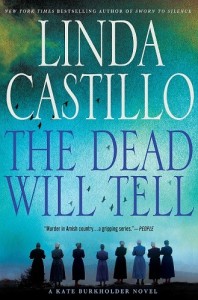 When I was a kid, I believed in ghosts.  You know, those restless souls belonging to people who'd died violently or before their time or, perhaps, left something important unfinished.  Ghosts were scary, mysterious things.  But of course they were just the musings of a seven-year-old farm girl with a big imagination and too much time on her hands.  Right?
The first house I remember living in with my parents and siblings was a one-hundred-and-sixty-eight-year-old farmhouse in rural Ohio.  We lived there until I was about seven or eight years old.  Set at the end of a long, gravel lane, the house and barns were surrounded by tall rows of corn, soybean fields, and impenetrable woods.  Rumor had it, the spooky old place had once been a stagecoach stop.  It was also purported to have been part of the Underground Railroad.  There were even stories about a man that hung himself in my sister's upstairs bedroom.  The attic was particularly intriguing to this young explorer's sense of adventure.  It had a winding, creaking wood staircase that led to a dusty room full of old shoes, yellowed newspapers and boxes.  Also on the property were two huge red barns where bats hung in the rafters, and an old silo that groaned when the wind blew.  Most kids would have been creeped out by the crumbling old place and all the talk of ghosts.  But I loved the mystery of it and that tantalizing element of the unknown.
Looking back, I realize that house was the perfect venue in which to ignite the muse of a future thriller writer.  Growing up in a place filled with so much mystery and so many stories was perfect fodder for a young imagination, and I hungrily gobbled up every last detail.
I still love a good ghost story and I was particularly excited when the idea for THE DEAD WILL TELL, which is the sixth book in my Kate Burkholder Amish thriller series, began to take shape.  The series is set in Ohio's Amish country—Holmes County—in the fictitious town of Painters Mill.  I couldn't think of a more interesting place to set a murder mystery.  One of the things I love most about it is the juxtaposition of wholesome living and the introduction of something evil.  With THE DEAD WILL TELL, formerly Amish Chief of Police Kate Burkholder has her hands full . . .
Everyone in Painters Mill knows the abandoned Hochstetler farm is haunted. Ghost stories abound, but no one knows what really happened that terrible night thirty-five years ago when an Amish father and his four children perished—and his young wife disappeared without a trace.
When Kate is called to the scene of an apparent suicide—a man found hanging from the rafters in his barn—evidence quickly points to murder. She finds herself chasing a difficult and elusive trail that somehow points back to the tragedy of that long ago incident. Meanwhile, Kate has moved in with state agent John Tomasetti and for the first time in a long time, she's happy. Their newfound bliss is shattered when one of the men responsible for the murders of Tomasetti's family four years ago is found not guilty and walks away a free man.
When a second man turns up dead, Kate discovers a link that sends the investigation in a direction no one could imagine and a horrifying truth that reaches deep into the past to unearth long-buried secrets and ties that strike at the very heart of Painters Mill. As Kate draws a bead on a stone cold killer, a murderer vows to right old wrongs and kill anyone who stands in the way.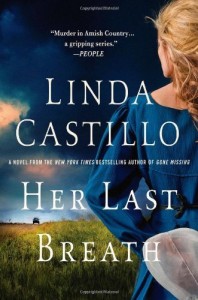 I love this blog post Linda! Thank you so much for sharing with us today. Readers, Linda has graciously offered to give one lucky reader the chance to win Her Last Breath which is the book right before The Dead Will Tell. Good Luck!
To enter leave a comment below. If you would like an Extra chance share this link on Facebook or Twitter. Remember to leave another comment if you did.
**Contest starts today Monday, June 23rd and ends on Monday, June 30th.**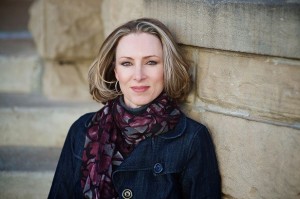 Linda Castillo is the New York Times bestselling author of the Kate Burkholder series, including Sworn to Silence and Her Last Breath, crime thrillers set in Amish country.  Sworn to Silence was recently adapted into a Lifetime original movie titled An Amish Murder starring Neve Campbell as Kate Burkholder.  Castillo is the recipient of numerous industry awards, including the Daphne du Maurier Award of Excellence and the Holt Medallion, and she received a nomination for the Rita.  She lives in Texas with her husband, two Appaloosa horses and three loveable dogs.  She's currently at work on her next novel.