A Mother's Secret
by Amy Clipston
I'm so happy that it's finally spring! It's such a beautiful time of year as we enjoy hearing the birds sing again, and the earth is renewed. I always look forward to seeing the daffodils sprout up in our yard. Daffodils are special to me since they remind me of the huge backyard behind the house where I grew up in New Jersey. My father once told me that the squirrels moved the daffodil bulbs, explaining why the flowers would poke up in random locations throughout the yard.
This year spring is even more special because the next book in my Hearts of Lancaster Grand Hotel series is set to release June 3. I received my author copies last week, and I'm thrilled to share the book. In fact, my mother-in-law called me tonight to tell me that she received the book and read it in one day. She laughed and said, "I couldn't put it down! I didn't get anything done yesterday because of the book." I was so thankful to hear that she enjoyed the story so much because it's very special to me.
A Mother's Secret is my favorite book in the series. Carolyn Lapp, the heroine of the book, is different from the other Amish women I've featured in my previous books. Due to her painful past, she's more outspoken and less traditional than any other Amish character I have created. I also enjoyed giving Joshua Glick his own story since he had his heart broken in A Hopeful Heart.
Book Description
In A Mother's Secret—the second book in a new Amish series by bestselling author Amy Clipston—Carolyn Lapp dreams of marrying for love. But will the errors of her past destroy this dream forever? Carolyn Lapp longs to have a traditional Amish family. But she lives on her brother's farm with her parents and her 15-year old son, Benjamin. Carolyn has never revealed the identity of Benjamin's father and lives daily with the guilt and shame of her youthful indiscretion. Her brother simply will not forgive her. His answer is to arrange a practical marriage for Carolyn to Saul, a widower with a little girl. But Carolyn isn't convinced that Saul really loves her and believes he is simply looking for someone to help raise his daughter. When Benjamin causes trouble at a local horse auction, horse breeder Joshua Glick decides that he must be taught a lesson. Carolyn and Joshua are unmistakably drawn to each other, but Joshua mistakenly assumes that Benjamin is Carolyn's brother. Carolyn fears that if he discovers the truth, her past will destroy their budding romance. After years of shame and loneliness, Carolyn suddenly has two men vying for her attention. But which of them will give her the family—and the unconditional love—she's longed for?
The Making of A Mother's Secret
A Mother's Secret was inspired while I was writing A Hopeful Heart. I felt Joshua Glick needed his own story after he had his heart broken in the first book. I really like Joshua's character, and I enjoyed telling his story.
This book is dedicated to my amazing editor and dear friend, Becky Philpott. She's been a tremendous support to me with my books. I'm grateful for her friendship and her guidance with my books.
I hope readers enjoy A Mother's Secret. Book three in the series, A Dream of Home, will follow in December. Thank you for reading!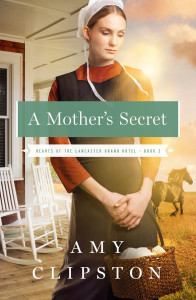 Thank you so much for stopping by Amy! I know readers are super excited to read A Mother's Secret and I am happy to announce that Amy is graciously giving TWO lucky readers the chance to win a copy. How awesome is that?
To enter leave a comment below. If you would like an Extra chance share this link on Facebook or Twitter. Remember to leave another comment if you did.
**Contest starts today Wednesday, May 21st and ends on Wednesday, May 28th.**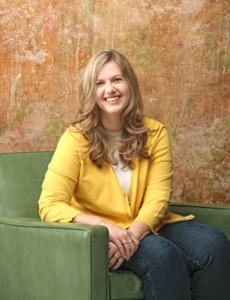 Amy Clipston is the author of the bestselling Kauffman Amish Bakery novels. She has a degree in communications from Virginia Wesleyan College and currently works for the city of Charlotte, North Carolina. Amy lives with her husband, two sons, and four spoiled-rotten cats. Visit her on the web at www.amyclipston.com and www.facebook.com/AmyClipstonBooks.