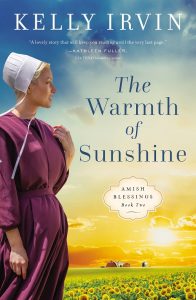 The Warmth of Sunshine is the second book in my Amish Blessings series, set in Yoder and Haven, Kansas. Yoder is the central focal point of these three Amish districts, and has a post office, but most of the Amish folks have Haven addresses. My hometown of Abilene, Kansas, is about an hour and half drive from this tiny community. Doing my research was fun because it gave me a great excuse to visit my family. My older sister drove my mother, sister number two, and myself south to Yoder. We ate lunch at the Carriage House Restaurant and visited its gift shop, as well as the local Amish furniture store with its wonderful display of quilts for sale. What a great trip!
The location also gave me the opportunity to set part of the store in Abilene. While most people who know me think of me as a Texan, I spent the first eighteen years of my life in this small, farming community. So, when my character Abigail Bontrager decides to get to know her biological mother's family, it seemed logical to have her meet them in Abilene.
Abigail, a nineteen-years-old Amish woman, has lived in Haven her entire life. She works in a restaurant in Yoder. She's awkward and clumsy, and she sometimes wonders why tasks so easy for her friends are so hard for her. But her faith never wavers. She's a hard worker determined to do her best. Then an English woman claiming to be her biological mother shows up in her family's living room one day. Abigail's view of her world is shattered when her Amish parents tell her she was adopted as a newborn. She decides she needs to get to know this woman and her English family better in order to know herself better. Suddenly her life is at a fork in the road, and she doesn't know which way to go.
Which brings me back to Abilene. This town of about 8,000 folks seems like an unlikely epicenter of tourism, but it is. Visit Abilene and you'll have a full itinerary: the Dwight D. Eisenhower Presidential Library, Museum, and Chapel, Old Abilene Town cow town replica, the Seeyle Mansion, Jeffcoat Studio Photography Museum, the Greyhound Hall of Fame, and Abilene and Smoky Valley Railroad.
Of course, the tourist attraction Abigail's would-be English suitor Rhett wants her to see is the world's biggest spur. At the time I wrote this book it was classified as a Guinness Book of World Records largest spur. Since then, it seems to have lost that ranking, but regardless, it's big. Rhett takes her photo and posts it on social media. You can imagine the furor that creates when her friends and family back home learn of it.
The Warmth of Sunshine chronicles a journey of self-discovery for Abigail, one I hope my readers will enjoy. As I mentioned earlier, this is book two in the series. I'm giving away a copy of the first book, Love's Dwelling to celebrate the release of The Warmth of Sunshine. Each book stands alone, but it'll be fun to take a peek at what some of the other residents of Haven are doing Be on the lookout for book number three, Every Good Gift, next year!
To enter to win a copy of Love's Dwelling, leave a comment below. Easy peasy! Giveaway starts today, Friday, July 22nd and ends Friday, July 29th and is only open to US residents (sorry!). One winner will be selected at random and announced in the comment section of this blog post.
Young Cassie Weaver only wants what is expected of an Amish woman: a good Amish husband and a large family. But she's happy as Job and Dinah Keim's housekeeper, helping Dinah, who is losing her sight due to diabetes. For two decades the Keims have prayed for the salvation of their two children who left the community in a cloud of shame and mystery.

Mason knew there was more to his mother's past than she let on, but nothing could have prepared him for learning about his Amish roots upon his mother's sudden death. Even more surprising, his mother named her Amish parents, Job and Dinah, as guardians to her five children. Now Mason has to trust that this couple, and their pretty housekeeper, can take care of his younger siblings, even when all he wants is to take care of them himself.As the children adjust to this new lifestyle, Mason finds himself pulled back to the Keims' home. Yes, he wants to see his siblings, but it's the conversations with Cassie that keep him coming back for more. Is there more to this Amish faith and how does it play into his own past? Cassie guards against her growing feelings for Mason, because there can be no happy ending for a Plain girl in love with an Englisch man . . . right?
---