I'm a relative newcomer to the Pacific Northwest. I was born and raised in Southern California, attended college in San Jose, Irvine, and Long Beach, California. My police career was spent in Long Beach, and it was there that I patrolled the streets with a badge and in uniform.
But four years ago, I made the big switch and moved to the small town of Eagle Point, Oregon. Quite a change. Long Beach is the third largest city in Southern California, behind Los Angeles and San Diego. There aren't as many people in the entire state of Oregon as there are in the Los Angeles basin. Eagle Point has a population of about 5,000.
To the untrained eye, there are no borders to cities in the LA area. Concrete sidewalks and asphalt streets roll on and on. Where one city ends and another begins can be a mystery; Long Beach becomes Compton or San Pedro or Seal Beach without any stark change in the landscape.
Here in southern Oregon, wide-open spaces still prevail. Ranches, farmland, and forests rim towns and hamlets. It's a different world, a slower world in some respects. Arrestees and ticket recipients' names are printed in the local paper. There is also a greater sense of community here; people don't seem to be as transient.
And that was my overarching reason for setting my new novel, Crisis Shot, in a small town, to project a sense of community.
As I began to write, I found four other good reasons to set a story in a fictional small town in southern Oregon.
In no particular order:
1. The challenge of the small town—Fewer people generally means less conflict, and a lesser degree of crime. Yes, crime is everywhere, and a lot is petty. But here, everyone knows everyone else, and many people are related in one degree or another, so there is nowhere to hide. There is no sprawling metropolis—no amorphous mass of people for a bad guy to disappear into. A criminal likely has to hide in plain sight.
How do I draw out the crime and the criminal? This was the challenge—playing the what-if game—and I enjoyed it.
2. The beauty of the area—I set my fictional town of Rogue's Hollow against the backdrop of the powerful Rogue River, forested hillsides, and the national treasure of Crater Lake. This area has a history as colorful as the landscape: Native Americans, pioneers, logging, mining, etc. There are a lot of great stories in the history of this area. Stories of pioneers coming here on the Oregon Trail are rich and documented in any number of old, interesting cemeteries and small local museums. Author Zane Grey—famed for his Western novels—had a cabin on the Rogue River.
3. The potential for crime—When I moved to Oregon, recreational pot had just become legal. Consequently, I've watched the implementation play out with a lot of local drama. Run-down small farms were bought up quickly, crops planted . . . It seemed as if marijuana farms were going in everywhere, the promise of fortunes to be made drawing people in like ants to honey. A lot of locals were not happy to see fields of hay or corn or some other food crop replaced with pot.
And there are other issues as well: pot is still illegal as far as the federal government is concerned. There were rumors that all these new farmers had to do everything in cash; banks wouldn't take money generated by something the feds deemed illegal. Robberies happened, crooks looking for cash—often it was product that was stolen. Plus, the state of Oregon may be loopy, but it's impossible that all the pot growing here is only being sold in state. But exporting to another state is illegal. This new market opens a whole can of worms.
4. Unique attributes of the area—While the Oregon Bigfoot Highway is in the northern half of the state, near Mount Hood, down south, we don't lack for stories about the illusive Sasquatch. Locals talk of sightings in Parker Meadows and in Butte Falls, about fifteen miles from where I live. I've sat around campfires and heard stories, including one about an Airstream trailer sporting dents after being pelted by rocks thrown by Sasquatch. I don't write fantasy, but the lore stirs my imagination. Visiting the spots he's supposedly roamed gets ideas flowing for human monsters and settings for suspenseful scenes.
Writing suspense or crime or mystery novels requires a fertile imagination. I'm glad I live in an area that keeps poking my imagination. And I'm glad that I left the concrete jungle for greener pastures.
---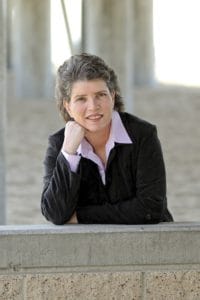 About Janice Cantore
Janice Cantore is a retired Long Beach police officer who now writes suspense novels to keep readers engrossed and leave them inspired. Her twenty-two years of experience on the force lend authenticity to her stories. She has penned nine novels: the Cold Case Justice series, the Pacific Coast Justice series, Critical Pursuit, and Visible Threat. Crisis Shot is the first in the Line of Duty series. She also writes a blog about police work.
About Crisis Shot (Tyndale House Publishers, September 2017)
Tess O'Rourke dreams of becoming the first female chief of police in Long Beach, California. As commander of the East Division, she is well on her way . . . until the night she responds to an officer-needs-assistance call and fatally shoots an unarmed teenager. Despite being cleared of wrongdoing by a grand jury, Tess is so hounded by the public that she takes a job in Oregon to escape the bad press.
Winning over the residents of Rogue's Hollow might be more difficult than adjusting to her new role as police chief in the small, backwater town. Especially when her closest friend, the pastor's wife, goes missing and the woman's cousin is found shot. Tess finds an ally in sheriff's deputy Steve Logan, but as they track down Rogue's Hollow's first murderer, she worries that she's breaking one of her rules and getting too close to him.
---
---