The Angel of Forest Hill – Not Your Usual Amish Christmas Story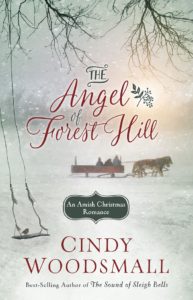 Ahh…What is Christmas without a wonderful novella from Cindy Woodsmall? Thankfully we do not have to find out, because Woodsmall has gifted her readers with a new little gem, just in time for the holidays, titled The Angel of Forest Hill!
The Angel of Forest Hill tells the story of Rose Kurtz and Joel Dienner. Rose, a complete stranger to Joel, enters his life at a pivotal time. When tragic circumstances come into play, Rose becomes Joel's wife and an instant mom. It is an arrangement of necessity only – not love.
As the years go by, each considers the other and the arrangement they made all those years ago. Can Rose move past her childhood hurts, and can Joel reach out to Rose…or will a new widow to the community turn his head instead?
I was given The Angel of Forest Hill in exchange for my honest review. I found it to be a compelling read. It's not your usual Amish Christmas story. It drips with struggle, emotion, charm, agony and perseverance. This novella hit me on a level like few storylines have. In less than 200 pages, Cindy Woodsmall manages to not only transport me into a small Old Order Amish community, but at the same time awaken something deep within me. The Angel of Forest Hill will definitely be a title you will want to add to your Christmas To-Be-Read list…and then your personal library. A definite winner.
---
Susan Ferrell and her husband make their home in the Atlanta Metro area. Although Susan struggles with chronic migraine headaches, she stays very busy as a stay-at-home mom to one very precocious little girl. While catching her breath, she feeds her Amishaholic tendencies by reading vast amounts of Amish literature!