Growing up in Northwestern PA I had the joy of being surrounded by multiple Amish settlements. Their culture and lifestyle became embedded in how I view the world and made me fall in love with their simple lifestyle. While I am not Amish I do live by many of their God centered, family focused, hard working values and admire their uncomplicated existence.
I invite you to join me as I take some of my experiences and write about the fictional town of Willow Springs. Come and meet the Byler and Troyer families through a series of short stories that are sure to give you a glimpse of authentic Amish life.
While the heat of summer is fading and the crisp cool air of autumn making its appearance, many Amish farmers are busy harvesting their crops and preparing for winter. Most men look forward to this time of the year and are already thinking about the first day of hunting season.
Come join me as we visit with Anna May as she take a short walk down memory lane in …
It was before dawn as Anna May hurried out of bed to get the coffee going before her son Martin came knocking at her door. It was the first day of hunting season, and she wanted to make sure he had a good breakfast before he went to the woods.
It was the Monday after Thanksgiving, and all the men in her Amish Community had been planning this day for weeks. As she filled the coffee pot, she looked out the kitchen window to see the moon reflecting off a fresh layer of early snow. A deep sadness overtook her as she remembered how Walter loved the first snow. It was all she could do to keep her emotions inside.
She set the coffee pot on the stove, added a few pieces of kindling wood to the firebox and busied herself rinsing the beans that had been soaking overnight. As she set the pot of beans back on the stove, she was reminded of the day the stove was delivered.
---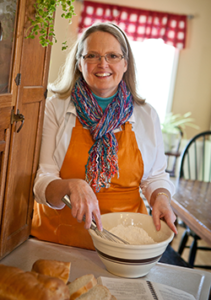 Tracy Fredrychowski lives a simple life in a modern world on her South Carolina farm. Writing for the popular blog, Our Simple Homestead, she strives to preserve the art of homemaking and homesteading while encouraging her readers to slow down and live a quiet stress-free life. With a focus on Amish fiction, she inspires her readers to live a God-centered life through faith, family, and community.