An Amish Harvest – A Bounty of Novellas!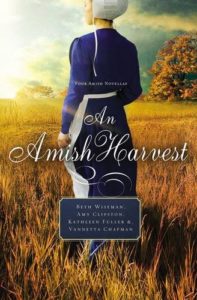 Beth Wiseman…Amy Clipston…Kathleen Fuller…Vannetta Chapman…WOW! Fields of harvest…crisp autumn leaves…love swirling in the air…YES! Add all of these elements together? EUREKA! When I received my copy of An Amish Harvest, I delved right in to Amish Land and never looked back. Grab a mug of cider and get ready!
Wiseman's Under the Harvest Moon follows Naomi Deiner, an Amish widow in need of help at harvest time. When family friend (and Englischer), Brock Mulligan, comes on the scene, forbidden feelings erupt. Can love find a way?
Clipston's Love and Buggy Rides tells the story of cashier Janie Lantz and buggy driver Jonathan Stoltfuz, both employees of Lancaster Souvenirs and Buggy Rides. An unfortunate accident allows their paths to cross…and perhaps creates a path towards love.
Chapman's Mischief in the Autumn Air follows Amish auctioneer Eli Wittmer, and widowed Martha Beiler. Martha decides to move from Sugarcreek, Ohio, to Shipshewana to help care for her elderly aunt. Martha also starts bookkeeping for Eli. Some strange things start happening at an auction, which leads to a good old fashion mystery – and perhaps a little matchmaking along the way!
Fuller's A Quiet Love tells the story of Dinah Hochstetler – shy and quiet, and Amos Mullett – simple compared to many, but longs for love like anyone else. Can Dinah and Amos find their way, despite their obstacles and the many people doubting their abilities to cope with life – let alone love?
I was given An Amish Harvest in exchange for my honest review. As always, this author quartet has delivered another sound collection. I found myself longing to skip summer and head straight into fall! An Amish Harvest is most certainly a bounty of novellas. Pick up your copy today!
---
Susan Ferrell and her husband make their home in the Atlanta Metro area. Although Susan struggles with chronic migraine headaches, she stays very busy as a stay-at-home mom to one very precocious little girl. While catching her breath, she feeds her Amishaholic tendencies by reading vast amounts of Amish literature!