An Intimate Interview with Renowned Author Vannetta Chapman by Susan Scott Ferrell
Today we have the honor interviewing author Vannetta Chapman. By the end, you'll know more about her – personally, spiritually and professionally!
Vannetta, thank you for taking time out of your busy schedule to allow us to peak into your life for a bit.
Let's get PERSONAL…
DA: Okay…so you don't eat white foods? What's THAT about?!
VC: I know. Right? My earliest memory of rebellion against white food is when I was about 9. Mother had made bologna sandwiches for everyone and I didn't want to eat mine because it had mayonnaise on it. She responded with a non-negotiable "Eat your sandwich." So I ate it – and threw it up. Hahaha. I guess I showed her.
DA: At one point in your life, you went through a very painful divorce, leaving you a single mom raising four kids. How did you get through that time?
VC: Actually I was a single mom with one child. Later, when I met and married my husband, he had three and so together we have a patchwork family of 4 grown kids. It's lovely. As to how I got through it? Very simply the grace of God. There were many people from my university and my church who were kind and helpful and giving. I learned a lot those years, not the least of which was how to be kind to others.
Let's get SPIRITUAL…
DA: You say that your works are "Fiction full of GRACE." How do you define God's grace, and how does it relate to your writing?
VC: I define it as the unmerited favor of God. Can't earn it. Can't un-earn it either. Because it's not based on me or what I do or don't do. It's based on our Lord, and it's a love that knows no end. That's the truth behind every one of my stories and what I aim to share with readers.
Let's get PROFESSIONAL…
DA: What was your inspiration for your newest release, Amish Christmas Memories? (Readers see review here.)
VC: I wanted to write an amnesia story. Does that sound silly? I wanted to explore the question of who are we without our memories. I would still be the same person, right? I'd still love chocolate, spend a lot of time reading, and want to be with my family. But if I didn't have my memories how would it affect the way I perceived things? How would it change the way I see myself? Those are just a few of the questions I tried to address in this book.
DA: What are you working on for your next writing project?
VC: I'm about to begin writing His Second Chance (working title). This is all I have so far:
He has a terrible reputation.
She's the bishop's daughter.
The  only thing standing between them is his past.
Oooh! Sounds intriguing!
Okay, readers! Comment below for an opportunity to win an autographed copy of Amish Christmas Memories AND a Christmas snowman, handcrafted by Vannetta! Giveaway starts today, Monday, December 3rd and ends Monday, December 10th and is only open to US residents. One winner will be selected at random and announced on Tuesday, December 11th. Good luck and don't forget to share this giveaway with your friends!
---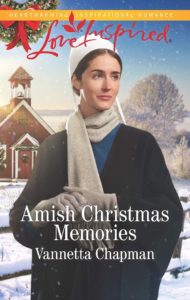 ABOUT THE BOOK:
All she wants for Christmas is her memories
When a young Amish woman collapses in the snow shortly before Christmas, Caleb Wittmer rushes to her aid. Only, "Rachel" remembers nothing of who she is. Now his family has taken in the pretty stranger, disrupting Caleb's ordered world. He's determined to find out where she belongs…even if Rachel's departure means saying goodbye to his old-fashioned heart forever.
ABOUT THE AUTHOR:
Vannetta Chapman writes fiction full of grace and is the author of over 20 Amish novels. She discovered her love for the Amish while researching her grandfather's birthplace in Albion, Pennsylvania. Vannetta is a Carol award winner and a Christy award finalist. She lives in the Texas Hill Country where she writes full time. She and her husband spend their time doting on their labrador, beagle, cats, and herd of deer. Vannetta also loves to knit, quilt, hike, camp, and travel.
---