One of my favorite books this year was The Keeper by Suzanne Woods Fisher. I am super excited to read book two, The Haven, which releases in August. If you have read The Keeper then you are familiar with Julia Lapp and are in for a real treat! I have an interview with her from The Stoney Ridge Roving Reporter. This interview makes the anticipation for The Haven at an all-time high! I simply cannot wait till August……….Enjoy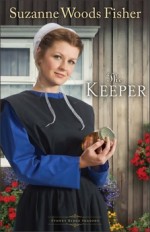 About The Keeper
Julia Lapp has planned on marrying Paul Fisher since she was a girl. Now twenty-one, she looks forward to their wedding with giddy anticipation. When Paul tells her he wants to postpone the wedding–again–she knows who is to blame. Perpetual bachelor and spreader of cold feet, Roman Troyer, the Bee Man.
Roamin' Roman travels through the Amish communities of Ohio and Pennsylvania with his hives full of bees, renting them out to farmers in need of pollinators. He relishes his nomadic life, which keeps him from thinking about all he has lost. He especially enjoys bringing his bees to Stoney Ridge each year. But with Julia on a mission to punish him for inspiring Paul's cold feet, the Lapp farm is looking decidedly less pleasant.
Can Julia secure the future she's always dreamed of? Or does God have something else in mind?
---
WELCOME TO THE NEWS FROM STONEY RIDGE COLUMN.
BY STONEY RIDGE TIMES ROVING REPORTER!
Interview with Julia Lapp from "The Keeper"–back for a visit to Windmill Farm in Stoney Ridge
Stoney Ridge Times Roving Reporter: Julia, the last we heard, you had decided to marry Roman Troyer, the Bee Man, but you hadn't told him yet. Can you fill us in?
Julia: Let's see, that must have been right after my father's operation. Those few weeks were pretty intense, as you can imagine. Rome was a rock during that time.
Stoney Ridge Times Roving Reporter: So did you marry soon after that?
Julia: We did. Rome felt a longing to get back to his childhood home in Ohio. It felt like a miracle to have the farm. It was a miracle. He wanted to get back to Ohio as soon as possible and see what condition the house was in, but I didn't want him to have to do that alone. I know he felt healed from his family's tragedy, but that would have been a lonely task. So we decided to have the wedding at Christmas.
Stoney Ridge Times Roving Reporter: How did Fern react to that news?
Julia: Fern? She did what she usually did-she complained and said it was an impossible task. Then she sat right down and started planning it. With such short notice, only about four hundred people could attend. A little on the small side. But it was a beautiful day.
Stoney Ridge Times Roving Reporter: So then you and Rome moved to Ohio?
Julia: Sadie, my sister, wanted to come along with us for a few months to help us set up house. That ended up being a timely decision, for so many reasons.
Stoney Ridge Times Roving Reporter: Oh? Such as…
Julia: [Hesitates.] Well, that's really Sadie's story to tell. Let's just say…coming to Ohio was a…significant turning point in her life.
Stoney Ridge Times Roving Reporter: Did the bees go with you?
Julia: Oh, my, yes! Rome could never be separated from his brown bees. He did leave M.K. with a new queen and a hive. He would have preferred waiting a few more years. Well, you know my little sister. She doesn't really have the temperament for beekeeping. It requires…patience.
Stoney Ridge Times Roving Reporter: She told me she's become a crackerjack beekeeper.
Julia: Mary Kate said that? [Rolls her eyes.] Fern might have an opinion about that. She's had to take on some new chores since we left. Bee-related. (Glances toward the house.) Speaking of chores, is this going to last much longer?
Stoney Ridge Times Roving Reporter: Oh. Oh! I guess not. [Watches Julia hurry off to the house.] Well, thanks for taking a few minutes to update everyone today. [The rusty hinge of the kitchen door squeaks as Julia disappears into the house.]
---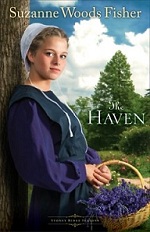 Hope you enjoyed this interview! Stay tuned for more updates from Stoney Ridge.
Don't forget to Pre-Order your copy of The Haven today!
Destination Amish Book Store – Orders are processed through Amazon.com.
To read my review of The Keeper click here.