An Uncommon Protector – Really Hits the Mark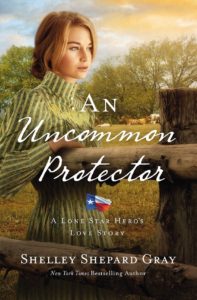 I've always been a fan of Shelley Shepard Gray's writings in the Amish genre (big surprise there!) But when she branched out to do a series set in the post-Civil War era, I wondered if I would be drawn in. What a silly notion! An Uncommon Protector, her second Lone Star Hero's Love Story, really hits the mark!
An Uncommon Protector is a sweeping tale of a man named Thomas Baker – a former sergeant of the Confederacy. His life has been laced with tragedy, fortitude, and misfortune. His inability to keep quiet has not served him well. That's what ends him in a cage in the middle of a Texas town, hoping to be bought as an indentured servant.
Laurel Tracey is a young southern woman trying to hold onto her family's ranch. With most of her family gone, two ne'er do well step-siblings, and squatters on part of her land, she needs help and fast…maybe an indentured servant is the answer?
Life gets complicated for them both when the situation goes from bad to worse – Laurel's very life has been threatened. Will Thomas become the stand-up man he's always longed to be? Will this uncommon protector be able to protect what is most dear? Read and find out!
I was given An Uncommon Protector in exchange for my honest review. I found it to be a riveting read. The characters were charming and believable. The storyline was complex, intriguing, and draws the reader in immediately. I was thoroughly won over by An Uncommon Protector and cannot wait for the next book in this series!
---
Susan Ferrell and her husband make their home in the Atlanta Metro area. Although Susan struggles with chronic migraine headaches, she stays very busy as a stay-at-home mom to one very precocious little girl. While catching her breath, she feeds her Amishaholic tendencies by reading vast amounts of Amish literature!