The Innkeeper of Ivy Hill – Jolly Good!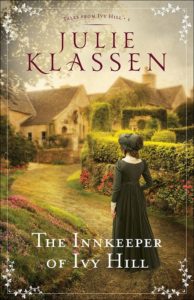 Okay, so where have I been? True, I'm addicted to Amish fiction (and there's nothing wrong with that!), but there is a cornucopia of really wonderful Christian fiction out there. My most recent endeavor is The Innkeeper of Ivy Hill, first in her Tales of Ivy Hill series. Author Julie Klassen is a new-to-me author and I am thoroughly wowed!
Set in 1820 Wiltshire, England, The Innkeeper of Ivy Hill tells the story of widow and innkeeper Julia Fairmont Bell. After a year of widowhood, Julia is uncertain where her place is in the world. Raised in a family of means, she chose the life of an innkeeper's wife – only to be left not only widowed, but the sole inheritor of her husband's family's inn, The Bell. Add a sneaky brother-in-law, a cantankerous mother-in-law, a gossiping cook, a mysterious stable hand, and a bevy of other characters, and you have one fantastic, satisfying page-turner!
I was given The Innkeeper of Ivy Hill in exchange for my honest review. I was pleasantly surprised! The characters and plotlines were winsome, complex, and worth cheering for. Fans of Jane Austen and Downton Abbey will easily jump into this book. Julie Klassen has found a new reader – me! And I can hardly wait to return to 1820s England and see what is happening with these beloved characters next. Jolly good show, Julie Klassen!
---
Susan Ferrell and her husband make their home in the Atlanta Metro area. Although Susan struggles with chronic migraine headaches, she stays very busy as a stay-at-home mom to one very precocious little girl. While catching her breath, she feeds her Amishaholic tendencies by reading vast amounts of Amish literature!