Fraying at the Edge – Stellar!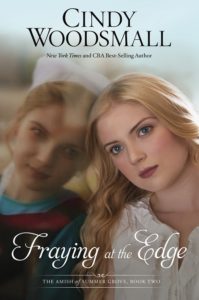 It seems like we've waited EONS, but the sequel to Cindy Woodsmall's Ties That Bind (first in her Amish of Summer Grove series) has finally arrived! And, as always, Woodsmall has delivered yet another stellar tome with Book Two, Fraying at the Edge.
Fraying at the Edge continues the stories of Ariana Brenneman and Skylar Nash, twenty-year-olds that were switched at birth – Skylar went into the world; Ariana went home to an Old Order Amish home. At the insistence of Ariana's bio-dad (to avoid a horrid lawsuit), the families of both girls are thrust back into the life they should have had. Confusion, anger and heartache ensue.
Ariana is exposed to her bio-dad's atheistic worldviews – where intellectualism is honored above all else. Skylar goes from the fast life, including drug addiction, to the seemingly backward-ways of the Brennemans. Both girls are fraying at the edge – will those ties that bind be strong enough to see them through all of this? Read and find out!
I was given Fraying at the Edge in exchange for my honest review. Once again, Cindy Woodsmall has given her readers what they want: intrigue, struggle, love…and Amish! Since this book so heavily relies on the storyline of Book One, I do not think it can be read as a stand-alone. And, let me just go ahead and tell you: pre-order Book Three! It looks like it's going to be a zinger! In the meantime, be sure to add Fraying at the Edge to your home library collection!
---
Susan Ferrell and her husband make their home in the Atlanta Metro area. Although Susan struggles with chronic migraine headaches, she stays very busy as a stay-at-home mom to one very precocious little girl. While catching her breath, she feeds her Amishaholic tendencies by reading vast amounts of Amish literature!