There is still the better part of two months left in 2015, but as Thanksgiving approaches and the end of the year, I can't help but reflect on what a year this has been. And I am thankful for it. At the beginning of the year, I knew that I was under contract to write five novels, and somehow by the Grace of God and the loving support of my family and friends I did it while working a fulltime job as a college librarian. It wasn't easy, and I don't know that I will ever do it again. However, I'm thankful that my publishers trusted me to do it and that my readers cheered me on.
I'm also thankful for a career change in my work as a librarian. After twelve years in college libraries, I am leaving academia behind to be a public librarian. My new position will have better hours, far less stress, and a very short commute, which all means I will have more time and motivation to write. It truly is a dream job for me, and I can't wait to start.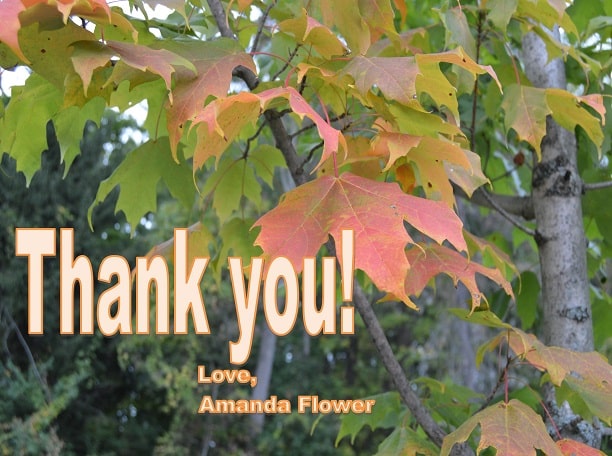 But most of all, I am thankful for my readers. You made three things happen this year for me that would never have happen without you. The first was my third Agatha Award nomination for Andi Under Pressure. The second was hitting the USA Today bestseller list with Murder, Plain and Simple, and the third was hitting the ECPA bestseller list with Amish Christmas at North Star. None of these great career-changing milestones could have happened without you buying, sharing news, reviewing, and most importantly reading my books. I am so grateful for your loyalty and excitement about my work. I could never thank you enough.
So this Thanksgiving, I pray for you wherever you might be. I pray that you are happy and healthy and that you find as much joy in the coming year as you have given in me in 2015.
Happy Thanksgiving!
Amanda
---
Amanda Flower, a three time Agatha-nominated mystery author, started her writing career in elementary school when she read a story she wrote to her sixth grade class and had the class in stitches with her description of being stuck on the top of a Ferris wheel. She knew at that moment she'd found her calling of making people laugh with her words. Amanda is a librarian in Northeast Ohio. She also writes as USA Today Bestselling Author Isabella Alan. www.amandaflower.com
Social Media Links: Facebook Twitter Goodreads Pinterest Instagram