Help us celebrate the cover reveal of MURDER, PLAIN AND SIMPLE the first mystery in the Amish Quilt Shop   Mystery Series by Isabella Alan releasing September 1, 2013 from Penguin/NAL!
Without further ado:
When Angela Braddock inherits her late aunt's beautiful Amish quilt shop, she leaves behind her career and broken engagements for a fresh start in Holmes County, Ohio.
 With her snazzy cowboy boots and her ornithophobic French bulldog, Angie doesn't exactly fit in with the predominantly Amish community, but her aunt's quilting circle tries to make her feel welcome.
 On the day of Running Stitch's reopening, Angie gets a taste of success as the locals and Englisch tourists browse the store's wares while the quilters stitch away. But when Angie finds the body of ornery Amish woodworker Joseph in her storeroom the next day, everything starts falling apart.
 With evidence mounting against her, Angie decides to find a few more suspects before the local sheriff can arrest her. Angie always thought Holmes County was a simple place, but as she gets closer to the killer, the more she realizes that nothing in the small Amish community is as plain as it seems…
And be on the lookout for PLAINLY MURDER, an e-novella prequel to the series coming in August!
See the cover here!!!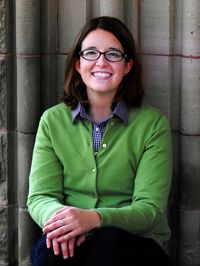 Isabella Alan is the pseudonym for Amanda Flower. Amanda Flower, an Agatha-nominated mystery author, started her writing career in elementary school when she read a story she wrote to her sixth grade class and had the class in stitches with her description of being stuck on the top of a Ferris wheel. She knew at that moment she'd found her calling of making people laugh with her words. Her debut mystery, Maid of Murder, was an Agatha Award Nominee for Best First Novel. She also writes the Appleseed Creek Mystery Series and the Andi Boggs Series, a mystery series for children. Amanda is an academic librarian for a small college near Cleveland.
Visit with Isabella Alan!
https://www.facebook.com/IsabellaAlanAuthor
https://twitter.com/aflowerwriter
http://www.goodreads.com/book/show/15985366-murder-plain-and-simple
Is there a better way to celebrate an Amish mystery reveal with an Amish Gift Package? One lucky reader will win this Amish gift purchased by Isabella in Holmes County, Ohio. The prize includes an Amish Country painting, an Amish-quilted wall pocket, and a desk decoration.
Contest Rules:
To enter leave a comment below. If you would like an Extra chance share this link on Facebook or Twitter. Remember to leave another comment if you did:)
Contest starts today Wednesday, May 8th and ends on Wednesday, May 15th. Winner will be announced on Thursday. Good Luck!