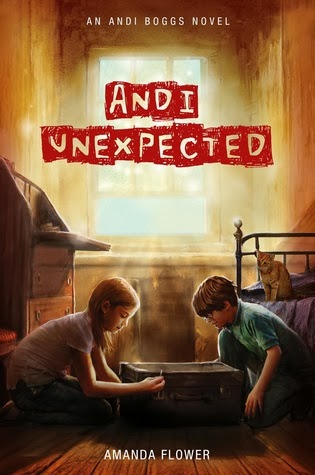 I have not read any works by Amanda Flower.  Neither am I a teenager.  In fact, I'm usually very picky about the genre of fiction I will read.  So, when I was given the opportunity to read Andi Unexpected in exchange for my honest review, I was a bit wary.  However, I found this novel to be a wonderful curiosity.
The novel follows the lives of Andora "Andi" Boggs, a 12-year old geek and her sister Bethany, who is all the things that Andi is not.  Both girls are still reeling from the death of their parents, as they move to Killdeer, Ohio to live with their aunt.  Along the way, Andi and her new friend, Colin, uncover a decades-old mystery of another Andora in Andi's family.  Who is this Andora and why does everyone in Killdeer seem to pretend they know nothing of her?  Through some super sleuthing, the truth is revealed!
Andi Unexpected is an excellent read and I thoroughly enjoyed it as I flipped through the pages, anxious to solve the mystery.  Although targeted for the 10-14 crowd, even we big kids will find this novel to be a surprising delight.
Susan Ferrell and her husband make their home in the Atlanta Metro area. Although Susan struggles with chronic migraine headaches, she stays very busy as a stay-at-home mom to one very precocious 5-year old. While catching her breath, she feeds her Amishaholic tendencies by reading vast amounts of Amish literature!