Hi Kathy, welcome to Destination Amish! Can you tell us about Honey Bee Café and Bakery?
Honey Bee Cafe opened July 2015 in Sugarcreek, Ohio as a local eatery & coffee shop. In 2016 we added the bakery and began baking all of our baked goods in house from scratch.
Some folks may not know that The Sugarcreek Amish Mysteries (Guideposts Books) feature the Honey Bee Café! What was your reaction when you were told about the books?
I was ecstatic when Nancy Mehl first contacted me about The Amish Mystery Series! At that point the café wasn't even open and I was working hard on the building and the menu concept simultaneously. It was hard for me to fathom what a great response we'd have in the months and years to come.
Favorite thing about owning a business is Amish Country, Ohio?
My favorite thing about owning a business in Amish Country is all the wonderful people we get to serve. Whether it's the local business people or folks that have traveled across the country to come to Amish Country it's always a pleasure to meet and talk with them.
The breakfast and lunch options you offer range from soup, salads, fantastic sandwiches and wraps, daily specials along with a wide variety of Gluten Free items. Is there one food that keeps customers coming back for more?
I would say our Chicken Panini and our Apple Walnut Chicken Salad are our biggest sellers, but if you haven't tried our Apple Bacon Grilled Cheese you should! I love it on our gluten free bread! We've added a lot of new breakfast items this year too. Our made from scratch Sausage Gravy Biscuits are very popular. We have a lot of great made from scratch desserts, our fresh peach cobbler with Vanilla Bean Ice Cream is so good! And yes, we offer a wide variety of gluten free options. My boys' favorite is our gluten free Cinnamon Chip Scones! I've been working on incorporating gluten free options since we opened in 2015 and I add new items each year. A lot of people come to Honey Bee for this reason.
What do you find most challenging about running a café?
The most challenging thing for me is sitting down. I would much rather be in the kitchen & out in the café or out landscaping after work than sitting in my office so that makes it difficult to get paperwork done. It gets done eventually. I just have to force myself to set time aside to do it.
Your drink menu is awesome! What's your most popular drink you serve?
Thanks! People really like our fresh brewed coffee! We serve Counter Culture Coffee so you can't go wrong with any of our specialty coffee drinks as well, but I'd say our Honeycomb Latte is most popular. Also, our fresh squeezed Lemonade and Smoothies are very popular.
Thanks so much for the interview, Kathy! Anything else that you would like to share?
I can't thank Guideposts and their authors enough for including us in The Amish Mystery Series. It's been an amazing journey. 🐝
Visit honeybeecafeandbakery.com and follow the cafe on Facebook and Instagram!
---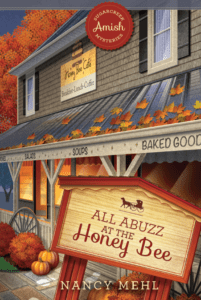 Fun news: Guideposts Books sent us a copy of ALL ABUZZ AT THE HONEY BEE to give away to ONE lucky reader!
To enter, leave a comment below. Giveaway starts today, Wednesday, October 3rd and ends Wednesday, October 10th and is only open to US residents. One winner will be selected at random and announced on Thursday, October 11th. Good luck and don't forget to share this giveaway with your friends!
ABOUT THE BOOK:
Mysteries abound in Amish country! These cozy mysteries center on two women crime solvers from different backgrounds solving Christian mysteries in Sugarcreek, Ohio. 
With the recent string of robberies at local banks, Seth Miller removed his life savings from his credit union. However, only a few days after, his money is now missing! As if this was not bad enough for the town of Sugarcreek, the Honey Bee Café has been losing customers due to rumors that it may be haunted. With the chief of police too busy to address these issues, can Naomi and Cheryl solve the mysteries and protect the reputation of Sugarcreek?
Click HERE to learn more about the series!
---