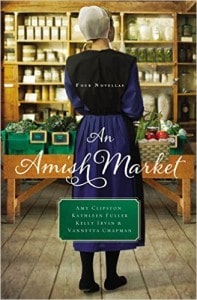 I received a copy of An Amish Market the other day. Traditionally, I am not a huge fan of novellas. But then I saw it: Amy Clipston…Kathleen Fuller…Kelly Irvin…Vannetta Chapman. Well then, how could I NOT like this collection of novellas? And I'm betting that if you are a fan of these authors, you will have a hard time putting this book down. So, take a stroll through An Amish Market and be swept away to Amish Land!
Amy Clipston's Love Birds follows Ellie Lapp, whose brother recently died. It's now just Ellie and her mom. The community has rallied around them, but Ellie really feels a need to find some work outside of the home to make ends meet. Her brother's friend, Seth, has been one of those helping out…but he also has a secret hobby – one that may help both Ellie and Seth heal in their grief.
Kathleen Fuller's A Bid for Love tells the story of Hannah Lynne, who sells her home-churned butter each week at the market. Confirmed bachelor Ezra faithfully buys a supply from Hannah Lynne every week. Hmm. When at a mud sale a quilt comes up for auction, Ezra outbids Hannah Lynne. Maybe Ezra's not quite the bachelor everyone thinks he is?
Kelly Irvin fans will be delighted to return to Bee County with Sweeter Than Honey. Constant, true, and unwavering Will Glick is still licking his wounds over losing his last love interest to his cousin. When new Bee County resident Isabella arrives, she's determined to help mend Will's broken heart.
In classic Vannetta Chapman style, Love in Store has a mystery to solve. Widower David Stoltzfus and seemingly tough-as-nails Stella Schrock team up to unravel the mysterious goings on in their little craft village. But perhaps God has more than friendship and detective work in mind for them?
I was given An Amish Market in exchange for my honest review. It was a wonderful read. Each novella had its own satisfying twist. With such amazing authors, there was no doubt that they would hit this one out of the park. Grab your copy today and be swept away to Amish Land!
---
Susan Ferrell and her husband make their home in the Atlanta Metro area. Although Susan struggles with chronic migraine headaches, she stays very busy as a stay-at-home mom to one very precocious little girl. While catching her breath, she feeds her Amishaholic tendencies by reading vast amounts of Amish literature!