A few months ago, my agent contacted me to let me know that Tantor Media wanted to release the Amish Quilt Shop Mysteries, which I write under the pen name Isabella Alan, in audiobook. I immediately said "yes." I have been a fan of audiobooks for a long time, and I was delighted finally have one of my own.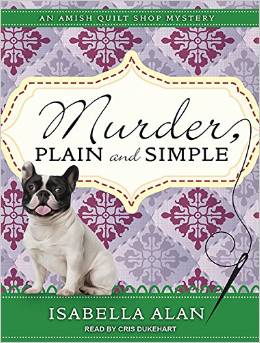 At the end of March, the first novel in the series, Murder, Plain and Simple, released in audio. I began listening to it on my commute to work this week. I was hesitant to listen because after my novels are published, I don't read them again. I never have. It comes from a fear that I might wish to change something about the story. Since I can't do that after the novel is released, I thought it best to not think of that novel again.
However out of curiosity, I listened to the audio sample of Murder, Plain and Simple online and was so charmed by the actress's portrayal of Angie Braddock, my protagonist, I kept listening and found my grinning as I listened to each chapter. Listening to my own novel is such a different experience that I have to remind myself that I actually wrote the story that was making me laugh out loud.
I wrote Murder, Plain and Simple over three years ago. Of course, I know how the books ends, but it's amazing to me how many small details I had forgotten or how many times my main character Angie made a funny comment. It's also fun to listen to Angie interact her love interest Sheriff James Mitchell for the first time. Currently, I am about start writing the fifth novel in the series, so it's fun to see how far they've come.
As of right now, the first three novels will release in audio. If they do well enough in that format, the others will follow.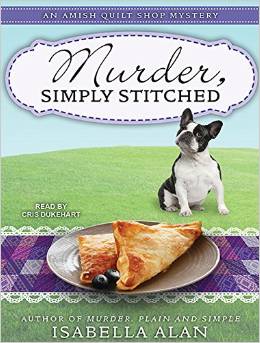 Even if you've read the books in print, I can vouch the audio is worth a listen. The actress Cris Dukehart does a wonderful job of capturing Angie's voice. I couldn't be more pleased with her performance. I hope you will check them out!
Happy Listening!
Amanda
You can get the audio version on CD or through Audible, ITunes, or Tantor Media.
Amish Quilt Shop Mysteries on Audio!  – here
---
Follow Amanda on Social Media at: Facebook| Twitter| Goodreads| Pinterest