Awhile back, in the course of a fairly long series for Steeple Hill Love Inspired, I introduced some Amish minor characters, wondering what my editor would say about that. She responded, "You know that Amish thing? Do that more." So, since I'm in the habit of saying yes to editors, probably in reaction to all those years when they were saying no to me, I agreed. It wasn't difficult to write about the Amish, since I've spent my life in rural Pennsylvania, where the Plain sects are very common. I also have several friends who grew up Plain, and I welcomed the opportunity to showcase that world in my fiction.
In fairly short order, I found myself writing two separate series of books featuring Amish characters: one a trade-size series of books for Berkley Books and the other a romantic suspense series for HQN Books. It seems I had found the place where I belonged.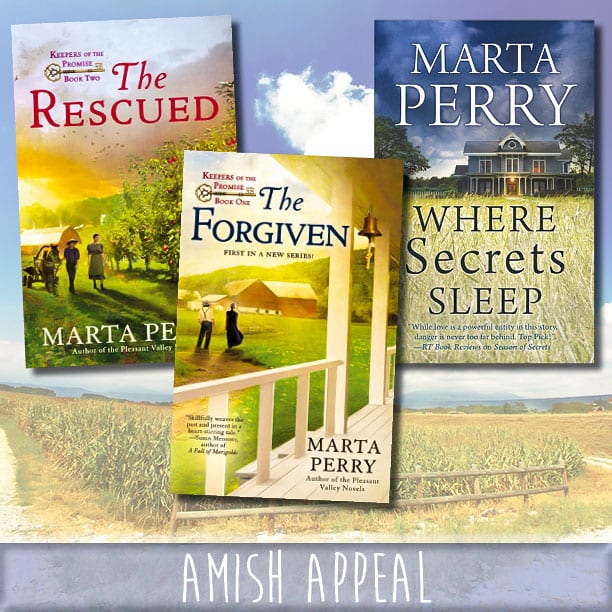 The Amish romance flood started, as these things often do, with a single author. Beverly Lewis has been quietly selling her Amish stories for a number of years, with no one in publishing apparently noticing, until she began appearing on the Times list. In short order, Wanda Brunstetter followed her to the list, and then Cindy Woodsmall. Suddenly every publishing house wanted its own Amish author, and Amish series are popping up like weeds in my flower bed.
Why are they so popular? Based on the letters I receive from readers, I'd say that the books help feed a longing for a simpler lifestyle. Haven't you ever wished you could get rid of the constant pressure and demand for interaction posed by e-mail, Facebook, cell phones, twenty-four hour news channels, and all the rest? The books allow readers to live for a few hours in a society which gets along very nicely without all those things.
It's also a society where families tend to live close together, and one in which there's an instant support system in time of need. With families in contemporary society spread around the globe, that has its own appeal.
The oddest thing about the fascination for Amish books, though, is the fact that this genre has grown up around a culture which does its best to stay out of the spotlight. Maybe that's why people are so interested in knowing what goes on there. The challenge for me has been to write it real and in a way that I trust will cause no offense to a group of people I admire.
---
Marta Perry is the author of over fifty novels of inspirational romance and romantic suspense, with over six million copies of her books in print. She writes the Pleasant Valley and Keepers of the Romance Amish series for Berkley Books, Amish Romantic Suspense novels for HQN Books, and novels and novellas for Love Inspired and Love Inspired Suspense.