A Reluctant Bride – Don't be a Reluctant Reader! – Review by Susan Scott Ferrell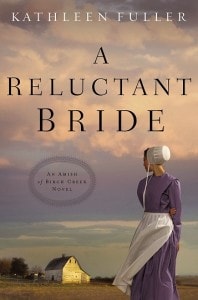 I have to say, whenever I see that a new book has released by Kathleen Fuller, I have a sense of peace. Silly? Yes. True? Absolutely. I know that every story she tells will make me want to grab a cup of tea, curl up, and lock myself away until I have finished the book. Well, if not for a gregarious seven-year-old, I would have! Fuller's latest release, A Reluctant Bride (first in her Amish of Birch Creek Series) draws you in immediately. It's like a drug.
A Reluctant Bride tells the story of Sadie Schrock, a young Amish woman who is perfectly intent on not marrying. In fact, she has no interest in the idea of marriage at all. But circumstances change and Sadie is forced by the Bishop to marry one of his sons – either Sol, who forced himself upon Sadie years ago…or Aden, who ran away and didn't protect her. In a cruel twist of "fate", Sadie must marry Aden. Can hearts be mended? Read and find out!
I was given this book in exchange for my honest review. A Reluctant Bride is phenomenal and a keeper, so make some space on your bookshelf. Buy it, love it…find a place to lock yourself in a room! 🙂
PREORDER A Reluctant Bride by clicking HERE
---
Susan Ferrell and her husband make their home in the Atlanta Metro area. Although Susan struggles with chronic migraine headaches, she stays very busy as a stay-at-home mom to one very precocious little girl. While catching her breath, she feeds her Amishaholic tendencies by reading vast amounts of Amish literature!