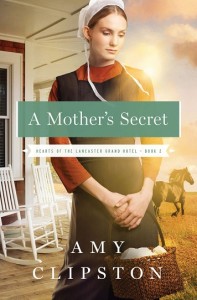 Too long! It has been TOO LONG  that I have had to wait for Amy Clipston's latest novel, A Mother's Secret! Last year, I was dazzled by Clipston's first novel, A Hopeful Heart, in her new series The Hearts of the Lancaster Grand Hotel. So, I [im]patiently waited for the second installment to arrive. Well, yahoo!  It was worth it!
A Mother's Secret tells a lovely tale of spirited Carolyn Lapp, a 31-year old maedel with a past that gnaws her with shame. Will she ever find a good Amish man to accept her (and her illegitimate teenage son) just as they are? Well, in steps not one, but TWO possibilities for Carolyn. Joshua (a bachelor) and Saul (a widower)…but will Carolyn open her heart to trust again?  Read and find out!
 Amy Clipston has once again captured her readers with A Mother's Secret. Equine lovers will enjoy the attention to detail in various scenes (those that are not will find themselves on a learning curve!) I have never been disappointed with any of Clipston's writings; however, I will say that I was hoping for more of the story-line to take place at the hotel (after all, that is the name of the series and Book One is heavily centered around the hotel, which I found to be a nice twist.) But in the long run, it makes little difference.This book can easily be read as a stand-alone. Characters from Book One are revisited in A Mother's Secret, but not distractedly so. I highly recommend this book – definitely a great read! Time for Book Three <foot tapping>!
Susan Ferrell and her husband make their home in the Atlanta Metro area. Although Susan struggles with chronic migraine headaches, she stays very busy as a stay-at-home mom to one very precocious 5-year old. While catching her breath, she feeds her Amishaholic tendencies by reading vast amounts of Amish literature!
This book was provided to Susan from HarperCollins Publishing for review purposes.