What do you think of when I say the words Amish schoolhouse? Did you picture a small white frame building in a secluded rural spot, with children in Amish clothing playing ball or tag outside? That's the most common image we have, especially of the Pennsylvania Amish.
But Amish schooling wasn't always so peaceful. In the aftermath of World War II, the key word for American culture was progress, and that concept included schools. Small, one-and-two-room rural schools were closed, large consolidated high schools built to serve families from a number of communities, and the idea of a small local school gradually disappeared.
Except for the Amish. In most areas with large Amish populations, the plans of state educational bodies and the needs of Amish families came into direct conflict. As long as their children could attend small local schools with neighboring farm children and quit school after eighth grade, the Amish were content to send their youngsters to public schools. But when it came to busing children long distances to spend the day studying subjects which their parents considered unnecessary or in opposition to their beliefs, Amish parents balked.
Did you know that in one fall term in the early 50s, over a hundred Amish parents were jailed for the offense of refusing to send their children to consolidated schools? My new book, THE RESCUED, brings to life one such parent, whose courage in the face of imprisonment for her beliefs not only inspires her descendant in the present day to act courageously, but also brings her to a new love and eventually a better life for herself and her children.
Here's a bit about my story, THE RESCUED, in stores everywhere on June 2nd.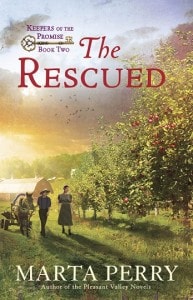 As an Amish wife and mother struggles to hold her family together, a story from the past teaches her how to face her daily challenges with strength and love . . .
In modern day central Pennsylvania, Judith Wegler tries to heal the growing rift between her husband, Isaac, and his teenage brother Joseph—whom Judith and Isaac have raised as their own ever since both brothers lost their parents and siblings in a horrific fire. Meanwhile, Isaac's hurtful silence about this tragic past has robbed Judith of any certainty of her husband's love.
But when Judith's grandmother gifts her with an antique study table, she discovers a hidden packet of letters that changes her life . . .
In 1953, widow Mattie Lapp fights against the county's attempts to force Amish children to attend a consolidated public school, even if it means arrest and imprisonment. Mattie knows she can't face this challenge alone, and turns to her late husband's cousin Adam for help, but she's terrified at the prospect of relying on someone else.
Now, as the two women's stories converge, both must learn to stand up for their beliefs and to love again, even when it means risking their hearts . . .
WANT TO WIN A COPY OF THE RESCUED? One person who leaves a comment will receive a free copy of The Rescued, courtesy of my publisher, Berkley Books. 
For an EXTRA chance share this post and leave a comment if you do.
Giveaway starts today, Tuesday, May 26th and ends Tuesday, June 2nd.
*Giveaway is only open to US residents*