I love having really great giveaways and this giveaway is awesome. Vannetta Chapman is offering an autographed copy of A Home for Lydia to one lucky reader!  I thought I would make this contest interesting and have everyone answer a question to be entered. Don't worry, it's not a hard question but rather a fun get to know you question! If you could visit one Amish community where would you visit? Leave your answer in a comment below:)
Contest starts today Friday, February, 1st and ends Wednesday, February, 6th. The winner will be announced on Thursday. Good Luck!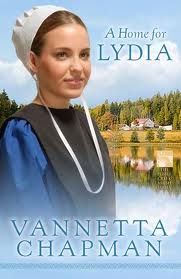 Aaron Troyer simply wants to farm like his father and grandfather before him. But instead he finds himself overseeing the family's small group of guest cabins nestled along the banks of Pebble Creek. That also means he must work with the cabins' housekeeper, Lydia Fisher.
Lydia is the most outspoken Amish woman Aaron has ever met, and she has strong opinions about how the guest cabins are to be run. She also desperately needs this job. Though sparks fly between boss and employee at first, when the cabins are robbed, nothing is more important to Aaron than making sure Lydia is safe.
Together they work to make the vacation property profitable, but can they find out the identity of the culprit before more damage is done? And is Lydia's dream of a home of her own more than just a wish and a prayer?
Visit with Vannetta!
http://vannettachapman.wordpress.com
www.facebook.com/VannettaChapmanBooks, and
http://pinterest.com/vannettachapman