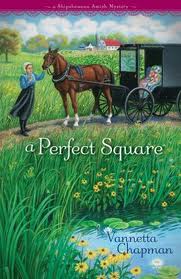 When I started this book I knew I would not be disappointed. I was immediately pulled back to Shipshewana, Indiana, where I was greeted by my favorite characters Callie, Deborah, Esther and Melinda. This time around the ladies are faced with a murder mystery involving their dear friend Reuben Fisher. Ester is engaged to marry Tobias, Reuben's cousin. A young Amish girl is found dead on Reuben and Tobias's land. Reuben is implicated in the girl's death and hauled off to jail. They are determined to help prove Reuben's innocence, but find that it is very difficult because Reuben has decided to not speak in his own defense. Characters from book one make appearances once again: Detective Shane Black, Officer Andrew Gavin, and the ever camera ready Trent McCallister, all trying to solve this mystery. Meanwhile Callie is working on solving another mystery of sorts. She is approached by an ailing Amish man seeking her help in finding his long lost daughter. Whew! Sounds like a lot of "mystery" right? Rest assured all the pieces will fall into place. This book will keep you engaged to the very last page. Enjoy the ride because you will want to book a return trip to Shipshewana! Wonderfully written and equally compelling, Vannetta Chapman has really out done herself. Simply delightful!
This book was provided to me from Zondervan via NetGalley in exchange for my honest review.
---
Vannetta Chapman, inspirational author
Falling to Pieces, September 2011
www.VannettaChapman.com
www.facebook.com/VannettaChapmanBooks
This title will be released on March 31, 2012.
To order this book through Amazon click here.