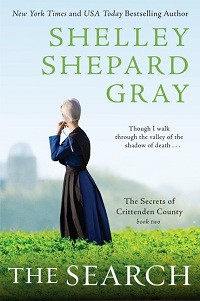 The Search puts us smack dab back in the middle of Perry Borntrager's murder investigation. Luke Reynolds and Mose Kramer are hard at work trying to solve the mysterious death. There's still not much to go on, but if sheer determination was the answer they would have their man. This time around our attention is focused mainly on Luke and Frannie Eicher. Frannie, as you know dated Perry, and runs a local B&B. Luke doesn't anticipate his feelings for Frannie, a growing attraction that comes as a surprise. When Frannie is hurt and has to stay at the hospital, Luke is right there by her side. The death of Perry Borntrager may have brought Luke to Crittenden County in search of a killer, but deep down inside he is searching for much more. Is Frannie what he is looking for? Frannie longs to be loved and with her choice in men has yet to find it. When her feelings for Luke come to the forefront, she can't help but wonder if he really cares for her, or is he trying to get close to find out if she knows more than she is saying about Perry's death. We also meet Beth Byler, who steps in to run the B&B when Frannie is in the hospital. I loved this character because she and I share similar kitchen techniques! This book doesn't miss a beat. It picks up effortlessly where book one left off. Chalked full of suspense, romance, and some of the best characters that I have had the pleasure to meet, The Search cannot be missed. Shelley writes with a real knowledge of what a reader wants, intriguing and unique characters who will leave you wanting more. I can honestly say as I closed in on the end of this book I was left feeling sad but a happy sad. I did not want the book to end! My suspicions are running amuck with my own theories of who killed Perry and cannot wait read the conclusion of this most excellent series of books!
This book was provided to me from HarperCollins Publisher's via Edelweiss in exchange for my review.
---
Book is available for pre-order here on Amazon or can be purchased in the Destination Amish Store.
Orders are processed through Amazon.com.
Shelley is active on Facebook and also has a website, www.shelleyshepardgray.com.