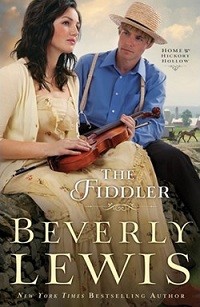 Amelia DeVries is a world class musician with a secret. She is a classically trained violinist but harbors a secret passion for fiddling. Amelia is under pressure from her agent to sign the papers for a European tour but just can't commit to it. She doesn't want to disappoint her parents especially her ailing father. Needing a break from her obligations, Amelia heads to Pennsylvania for a fiddling gig. Although she loves the violin she is able to let go and be free when she plays her fiddle. Michael Hostetler is struggling to join the Amish church. He feels a pull towards the English world. Michael knows what is expected of an Amish son but can't make his vows to the church.
A dark and stormy night brings these two confused people together. They spend one night together tucked away in a cabin deep in the Pennsylvania Mountains; a night that will forever impact both their lives.  Although they just met, Michael and Amelia immediately feel a connection and confide in each other.  Their lives are very different from one another, but they are more alike than what meets the eye.
I didn't connect with the main characters as much as I thought I would. Actually, I preferred the supporting characters like Joanna Kurtz, who is a young Amish girl with a sweet demeanor.  She is instantly likeable and you want to get to know her better. Joanna's story will be in the upcoming book The Bridesmaid. Also there is Elizabeth, Michael's niece who has left the Amish community and is living in the English world. I found her story quite compelling which touches on domestic abuse, and I think her story could be a book on its own. I especially liked visiting with Ella Mae Zook again, a beloved character from The Shunning.  Overall I enjoyed my trip back to Hickory Hollow and I am sure you will too!
This book was provided to me from Bethany House, a division of Baker Publishing, in exchange for my review.
---
About the author: http://www.beverlylewis.com/
The Fiddler can be purchased through the Destination Amish Store.
Don't forget you can pre-order The Bridesmaid in the store too.
Orders are processed through Amazon.com.