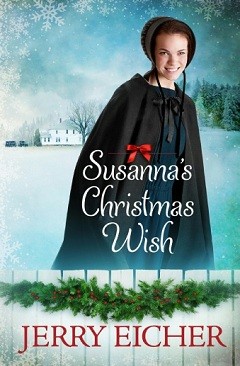 Want some Christmas cheer in September? If so, check out Susanna's Christmas Wish by Jerry Eicher. This is a short and sweet book that should take the Bah Humbug right out of you! Susanna and Herman are adjusting to married life when up pops Susanna's old flame Matthew. He broke her heart when he left the community to become English. Matthew causes a stir and sends this couple's marriage into a tailspin. Throw in a controlling mother-in-law, Herman's refusal to allow any kind of Christmas celebrations, and you have yourself quite the little drama all wrapped up in one hundred and forty-one pages!
My only complaint about this book is that our main character is just a little too sweet. To me sugar and a little spice make everything nice. I wish the author would have given her more bite. Mix some sass in with all the sweetness. There are parts that had me shaking my head because I could never have bit my tongue like Susanna does! Her mother-in-law is a bit cantankerous and that's putting it mildly. Overall Susanna's Christmas Wish is sure to please fans of Christmas stories and will leave you ready for the holiday season. Let the countdown begin……….
This book was provided to me from Harvest House Publishers for review purposes.