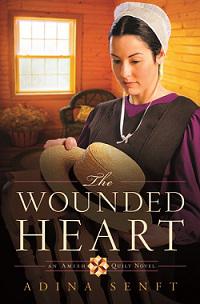 The Wounded Heart by Adina Senft will take you on an emotional journey as you travel into the home and heart of Amelia Beiler. Widowed with two young boys, she is having a hard time staying afloat. Her only solace is her weekly quilting time with her two best friends Carrie and Emma. To add to her problems she starts developing some strange health issues. After a trip to the doctor she is delivered a devastating blow, she has multiple sclerosis.  Scared and confused she decides to get a second opinion. Much to her dismay the diagnosis is still the same. Only this time the doctor gives her a small amount of hope when she tells her about an experimental approach that would require her travel to Mexico. Amelia is left with a choice to go the route of being on medication the rest of her life that may only prolong the enviable of being wheelchair bound or does she try a different way that may put her disease into remission.  Both routes will be expensive and her only hope to fund a trip to Mexico would be to sell the shop. Word travels fast through the Amish grapevine that she may have to sell and she gets multiple offers. One offer is from Eli Fischer, who not only has his sights on the business, but on Amelia as well. At a crossroads Amelia seeks counsel from the church elders who tell her if she goes to Mexico for treatment she risks being put under the Bann. As her symptoms progress so do her feelings for Eli, but how can she pursue a relationship when she doesn't know what lies around the corner with her health? Amelia is a strong woman who I found to be courageous and full of life. A life she is not ready to give up. She is willing to do most anything she can to be healthy for her boys. This book was such an inspiration to read. I cannot imagine being told you can't do something that you desperately need to do.  I was very moved by Amelia's story and I recommend that you pick up a copy today! The second book, The Hidden Life, will be out in June, and I am very excited to continue getting to know these fabulous characters.
This book was provided to me from FaithWords a division of Hachette Book Group in exchange for my review.
---
This book is available here through Amazon or can be purchased at the Destination Amish Store.
http://destinationamish.com/?page_id=551
About the author: http://www.adinasenft.com/