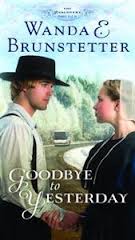 Have you ever wanted to read a book before it is released? Well here is your chance! I have six Advanced Reader Copies of Wanda Brunstetter's new book Goodbye to Yesterday:(Part 1-The Discovery-A Lancaster County Saga) up for grabs courtesy of Nancy Berland Public Relations.
I have handed out copies to some die hard Wanda fans which included my mother and grandma. They were so excited….I love that:) If are a lucky winner and you like the book why not let everyone know by posting a review on any retail site such as Amazon.com or christainbook.com? This really helps authors and lets them know how much we appreciate their work! Good Luck Everyone

Contest Rules:
Simply leave a comment on this post below to be entered.
Contest starts today December 28th and ends on January 4th. Winners will be announced on Saturday the 5th.