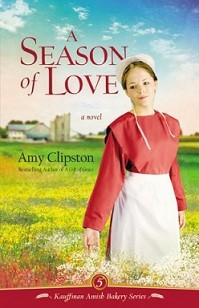 Love is in the air in Bird-in-Hand, Pennsylvania for everyone except Katie Kauffman. To Katie it seems like all of her friends are moving forward with their lives and she is not. Her best friends Lindsay and Lizzie Anne are happy and in love. Lindsay has started to date Matthew Glick and Lizzie Anne and Samuel, who is Katie's brother, are to be married. Katie feels left out and often the fifth wheel. She fills her days working at her grandmother's bakery and taking care of her family. Katie desperately wants what her friends have, someone to love and to be loved. Jake Miller is a carpenter, who is tending to a broken heart. He is stuck in a rut. He goes to work every day, and every night he goes home to a frozen pizza. Jake starts a job at the Kauffman Amish Bakery doing some remodeling. While working Jake and Katie forge a friendship and become lunch buddies. Katie and Jake enjoy their time together but trouble is brewing. Katie is Amish and Jake is Mennonite. Katie's family strongly warns her of the dangers of getting close to Jake. The Amish do not mix with the Mennonite. The bottom line is that it cannot happen. As they grow closer, Katie and Jake realize just how strong their feelings are. The end result is Katie being forbidden to see Jake. Having already joined church she has no choice but to comply. Can the boundaries be broken so that these star crossed lovers can be together? Will the ways of the Amish and Mennonite be their downfall before they even begin?
What a book! This is a great story with wonderful characters that you will immensely enjoy. I felt so bad for poor Katie throughout this book! Let's just say her father is set in his ways. And that's putting it mildly! Previous storylines are wrapped up beautifully, and I was left with a sense of contentment. It is always such a pleasure reading Amy's books. A Season of Love is the final book of her Kauffman Amish Bakery Series, but no need to fret, Amy has many more books in the works!
This book was provided to me from Zondervan Publishers via NetGalley in exchange for my review.
---
Book is available for Pre-Order in the Destination Amish Store.
You can visit Amy Clipston's website at http://www.amyclipston.com/
Don't forget to Like and Follow Amy on Facebook and Twitter.