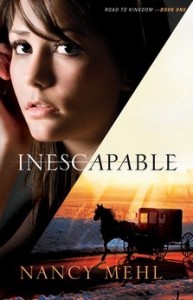 Lizzie Engel is in trouble. She has been receiving harassing letters and there is a strange man who has been lurking outside her apartment. To add to her trouble she has been accused by her boss, a lady who has it out for her, of stealing money from her work. Fearing for her safety and scared that her daughter will be taken away from her if she is found guilty, Lizzie comes to realize she has only one place to she can go…….back her childhood home. Filled with painful memories of being raised in a strict Mennonite home with an overbearing father, Kingdom, Kansas is a place she vowed never to return. Lizzie must protect her daughter at all costs. With no other options she makes a run back to the town that turned its back on her five years ago when she was a pregnant unwed girl who needed their support the most but was met with accusations and the harsh reality that no one wanted her there. What will she be facing in Kingdom? Will she be welcome or be forced to run once more…………
This book is quite the page turner! Inescapable is a thrilling and suspenseful book filled with characters that will touch your heart. If you don't fall in love with little Charity then we will have to find you a heart Tin Man! The relationship between Lizzie and her father is heartbreaking and intense. Are you sensing a pattern with my description of this book? That's right; it's a story full of heart. Ultimately, Inescapable is about how far one is willing to go to protect the one's they love and being able to follow your heart…..trusting that it will lead you down the right path. If you are looking for a book that will keep you guessing till the very end, then Inescapable by Nancy Mehl is the book for you.
This book was provided to me from Bethany House Publishing for review.
---
Author Info
Website: http://www.nancymehl.com/
Facebook: http://www.facebook.com/nancy.mehl