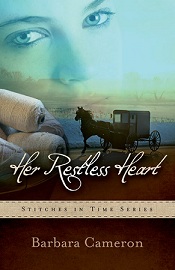 Mary Katherine feels restless with her life. She has a domineering father who is hard to live with and is quite harsh. Fortunately, her grandmother comes to her rescue and invites her to live with her and work in her quilt shop Stitches in Time. Mary Katherine couldn't be happier when she is working at the store.  She feels most alive while weaving on her loom.  It helps her forget her troubles and just be free. To make things even better her two favorite cousins work there too.  She is torn about joining the Amish Church or escaping into the English world. Jacob Miller has been a longtime friend who wants to court Mary Katherine but she is having none of that. Daniel Kurtz waltz's into the picture from Florida and hopes to woo Mary Katherine also. Can Jacob convince her that he is the one to tame her restless heart or will she opt for some adventure and flee to Florida with Daniel? This is such a wonderful book! I found myself thoroughly engaged with each turn of the page. You really feel for Mary Katherine during her quest to find her way. Her strained relationship with her father gives way to some major trust issues. The author does a great job with the relationship between a father who is emotionally detached and a daughter who just wants her daddy to love her. Mary Katherine may be confused about where she belongs but make no mistake about it this girl has some spunk! You will be very impressed with this book. The second book cannot come quick enough and is at the top of my many must read books!
This book was provided to me from Abingdon Press via NetGalley in exchange for my review.
---
Get the book here or through my book store here.
Barbara Cameron: http://barbaracameron.com/