"No one ever said doing the right thing was easy. But if everyone involved had done the right thing from the beginning?…My life would have been a great deal easier. It's true."  -Mose Kramer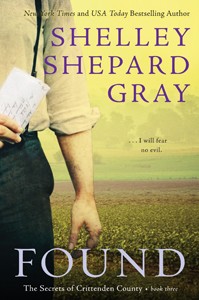 After reading Missing and The Search I had my list of suspects narrowed down to a handful with one particular character at the top of the list. Well, I can throw that list out the window because after reading Found, I need to brush up on my detective skills. In this final installment of The Secrets of Crittenden County, Shelley Shepard Gray pulls us back to Kentucky and into the lives of those who loved and loathed Perry Borntrager. Luke and Moses are trying to fit the last piece into the puzzle of Perry's death. Deborah is Perry's sister, who has always felt like she was walking in his shadow. He could do no wrong in the eyes of her parents, and she was often left feeling resentment for being overlooked. Now she is left with grieving parents who still think Perry did no wrong. They are in a state of denial and Deborah simply can't take it. Needing some space from her parent's she decides to find a job. How ironic is it that the only place that will hire her is Schrock's Variety Store, the one place she feels most unwelcome. Working alongside Jacob Schrock is the last thing Deborah wants to do, but she wants to put some normalcy back into her life and agrees to take the job. Jacob is mad at the world and most of his anger is directed towards Deborah. He wants nothing to do with anyone with the name Borntrager. Perry burned one too many bridges. Jacob knows things…..things he would rather keep to himself. With Deborah around the memories are there staring him down. As the investigation intensifies, Deborah and Jacob are pulled together by their knowledge of Perry's last hours of life. Feeling comfort when talking to Deborah, Jacob starts to soften up and the two start repairing the friendship they once had. That is until Jacob is hauled off for questioning and secrets come to light that Deborah could have never imagined…….
Reading Found was like taking a roller coaster ride! I experienced a wave of emotions. At times I thought Perry, who was dubbed a drug dealing bully, was horrible while other times I felt aching in my heart for the son and brother who lost his life. Underneath the tough exterior was a boy who lost his way and was not able to find the road back to the loving arms of his family. The relationship between Jacob and Deborah can only be described as raw, honest, and laced with heartache.This was a very compelling book with an ending I did not, I repeat, did not see coming! I have loved every minute of getting to know these characters, and I am sad to see the series end but glad that the door on Perry's case has been shut. They do say whenever one door closes another one opens…….
This book was provided to me from HarperCollins Publishing for review
---
Author Links
Shelley is active on Facebook and also has a website, www.shelleyshepardgray.com
Like Shelley on Facebook here