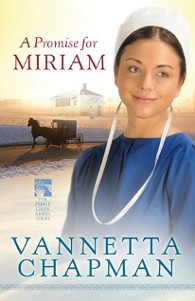 Miriam King loves her life in Pebble Creek, Wisconsin.  She loves her teaching job at the local Amish school. At twenty six many wonder why she has not married. She is beautiful and adores her students. Gabriel Miller is a widow who decides to move to Pebble Creek. Gabe is determined to leave his past in Indiana and start a new life with his daughter Grace.  Grace is an adorable little eight year old who has not spoken in three years. When Grace comes to Miriam's school, Miriam is determined to help her speak.  Gabe moved to Pebble Creek to keep to himself and not take any help or handouts, but now that's all out the window because the feisty Miss Miriam with jet black hair and beautiful gray eyes demands his attention.  He has guarded his heart well since the death of his wife, but feels a spark when he is around Miriam. Torn by his feelings for her and also realizing he is but a humble man with nothing to offer her, he pushes her towards Aden Schmucker.  He feels Aden can provide an easy life for her. Miriam feels a connection to Gabe and is confused when he encourages her to give Aden a chance. She knows he feels something, so why is he rejecting her? How can she make him realize his heart is the one she longs for?
A Promise for Miriam is an endearing love story written by Vannetta Chapman, who has quickly become one of my favorite authors. This was such a heartwarming story. I found myself laughing, crying, and smiling, all the while feeling a sense of joy reading about these characters. I loved reading from Grace's point of view. It's very refreshing to see the world through a child's eyes.  I am only covering the tip of the iceberg with this review because this book has so much more to offer than I can put into a few paragraphs.  It's a book filled with honest and genuine characters that will make you feel right at home in Pebble Creek.
This book was provided to me from Harvest House Publishers via NetGalley in exchange for my honest review.
---
Vannetta Chapman, inspirational author
www.VannettaChapman.com
www.facebook.com/VannettaChapmanBooks
Pre-order A Promise For Miriam in the Destination Amish Store.
Orders are processed through Amazon.