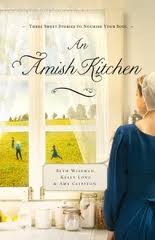 Recently I read An Amish Kitchen by Kelly Long, Amy Clipston, and Beth Wiseman which is three novellas in one book. I thoroughly enjoyed each one and fans of these three exceptional authors won't be disappointed. The stories are filled with romance, humor and most importantly love. The ladies create characters who will keep you turning the pages faster than one might think. As an added bonus, this book is jammed packed with a ton of recipes. I haven't tried any yet but there are a few that really caught my eye, or I guess I should say got my stomach rumbling with hunger! I know you will love this book as much as I did and I am happy to say that Thomas Nelson Publishing is giving one lucky reader a chance to win a copy of An Amish Kitchen. How great is that? To enter simply leave a comment on this post and good luck everyone:)
Contest starts today Friday January 4th and will end Wednesday January 9th. The winner will be announced on Thursday the 10th.
I was provided this book from Thomas Nelson Publishers for review purposes.