I had the pleasure of being part of the five-author anthology Amish Christmas at North Star released by WaterBrook Multnomah. This collection begins with the birth of four Amish children all delivered by the same Amish midwife twenty-five years ago. Each novella tells the story of where that child is in the present day. Spoiler… my Amish child in "Mourning Star" turns into an amateur sleuth. You know I love my crime solvers!
What I love about the collection is how each novella fits in the overall story but remains distinctly written in each author's unique voice. It was an honor to be included on this project with these accomplished and talented ladies.
Because this is an Amish Christmas collection, I asked my co-authors what they would most like to do or see if they had the opportunity to spend Christmas in Amish Country. Here's what they had to say.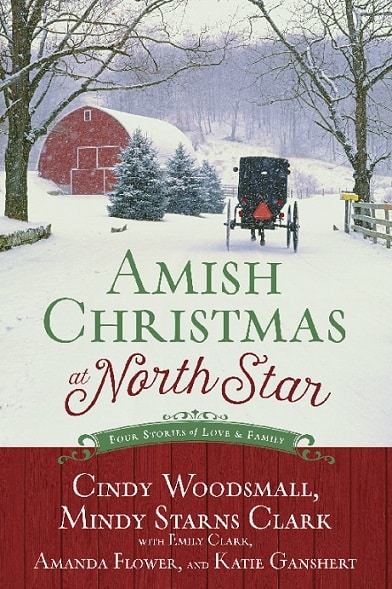 My favorite part of the holidays is when our family all gathers together and cooks dinner, so I'd probably most enjoy being in the thick of things with an Amish family, helping to prepare their Christmas feast with them.—Emily Clark
I'd love to go to a Christmas program in an Amish school. How precious that would be! – Mindy Starns Clark
I'd like to sit in on one of the singings to see how the youth socialize.—Katie Ganshert
Amish youth Christmas caroling is in my novella inside Amish Christmas at North Star because the whole concept is so endearing, and I would love to be in one of the Amish homes when the youth arrive to sing Christmas carols!—Cindy Woodsmall
And my answer is:
I would love to go caroling with the Amish too and ride in a buggy from house to house. I hope the caroling includes an Amish bakery on its agenda!
Giveaway: One paperback copy of Amish Christmas at North Star
How to enter: Leave a comment telling us what you most like to see or do if you spent the Christmas season in Amish Country.
For an

EXTRA

chance share this post and leave a comment if you do.
Giveaway starts today, Tuesday, October 20th and ends Tuesday, October 27th.
*Giveaway is only open to US residents*
---
Amanda Flower, a three time Agatha-nominated mystery author, started her writing career in elementary school when she read a story she wrote to her sixth grade class and had the class in stitches with her description of being stuck on the top of a Ferris wheel. She knew at that moment she'd found her calling of making people laugh with her words. Amanda is an academic librarian for a small college near Cleveland. She also writes as USA Today Bestselling Author Isabella Alan. www.amandaflower.com
Also released by Amanda in October
Andi Unstoppable (third novel in Andi Boggs children's mystery series)
Murder, Plainly Read (fourth novel in Amish Quilt Shop Mystery Series)
Social Media Links: Facebook Twitter Goodreads Pinterest Instagram