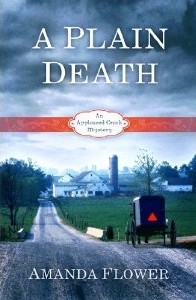 A Plain Death by Amanda Flower is a delightful book. It is set in the fictional town of Appleseed Creek and is chalked full of mystery and intrigue. It is an absolute joy to announce that I have THREE copies to giveaway courtesy of B&H Publishers!
Amanda stopped by awhile back for a little chit chat. Click here to read the interview and get to know her.
My Review (previously posted on May 19)
I have a new author on my radar and I am not about to let her out of my sight! Amanda Flower has written a fantastic book!  I must say I simply adored this book. It follows Chloe Humphrey, a twenty-four year old computer techy, who takes a job in the small quaint town of Appleseed Creek, Ohio. Right from the start Chloe realizes this small town may not be so small after all. As she is driving along a rural road she sees a young girl in distress. The girl is being accosted by two men who seem to want to do harm. Chloe intercedes and scares the men away. And so it begins…. Chloe finds out that the girl is Becky Troyer, who is Amish and is leaving home.  Becky asks to stay with her and Chloe agrees for a few days. She seems harmless and Chloe likes her from the get go. Besides, she knows no one in town so this is a start. Becky promises to find a job and she is determined to do so.  She gets an interview at a local greenhouse and decides to borrow Chloe's car without her knowledge to get there. Never mind that she has no license, she wants this job! On the way to the interview tragedy occurs. The brakes go out on the car, and Becky is unable to stop going down a hill and slams into a horse and buggy killing the beloved Bishop Glick. Shocked and horrified Becky manages to only receive a broken arm. Becky is in a heap of trouble. Chloe and Timothy Troyer, who is Becky's brother, rush to her defense. Chloe knows her car was in proper driving condition so what happened? After some investigation, it's discovered that the brake line was cut. Who would do such a thing?  As the mystery deepens and I was drawn into the investigation, I quickly realized everything was not what it seemed…..
A Plain Death has it all- mystery, intrigue, and a cast of characters that you will think about long after the last page is turned. Throw in Timothy, a handsome suitor for Chloe, and you have a recipe for a prize winning book. Amanda Flower has cooked up a real winner and I can't wait for seconds!
Contest Rules
My favorite character in A Plain Death was Grandfather Zook. He is everything a grandpa should be: jolly, wise, and always available for a hug. Such a great character!
What qualities do you think make a character memorable? Leave a comment below. 
Like and share with your friends on Facebook for a second chance! (make sure to comment back for your second entry!)
Contest starts today and ends on July 5. I will announce the winners July 6.
---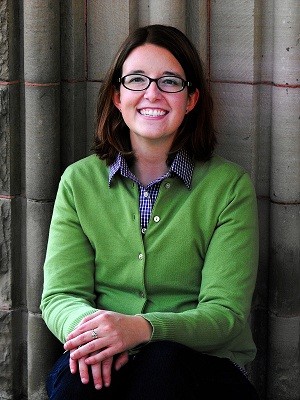 Author info: http://amandaflower.com/
A Plain Death: An Appleseed Creek Mystery can ordered in the Destination Amish Store.
Orders are processed through Amazon.
Don't forget to like and share on Facebook!